Legs feeling like jelly after taking up swimming?

Malaysia
February 20, 2011 8:17pm CST
over the last few weeks I have started up swimming just for general fitness. I do about 20 minutes of stroke and all is going well except for afterward my legs feel so weak, it's even a task to walk down the street afterward. I'm eating well and taking protein shakes so my diet is reasonable for the exercise I'm doing. My legs are not sore they just feel really fatigued, which is weird because my arms get most of the workout and they are feeling fine. Is there some kind of stretching I should be doing before or after?
11 responses

• United States
21 Feb 11
Have a glass of milk after you swim. You are exhausting your leg muscles. Recent studies are showing that to replace the things you have used when exercising, it builds more new muscle if you drink milk, rather than an energy drink.You are doing more with your legs than you are used to.

• India
21 Feb 11
Swimming is the only exercise where every muscle in your body gets strain or proper exercise.You might feel that only hands are moving.But experts are of the opinion that unlike any other exercise every muscle gets more than its due share of strain while swimming.The weakness you feel is due to improper diet after such a strenuous exercise.Eat good, nutritious food after swimming and the weakness will slowly disappear.One normally swims on an empty stomach and after swimming one feels very hungry as the entire body is properly exercised,hence it is advisable to eat a hearty meal containing all the essential nutrition required for the human body.

• Romania
22 Feb 11
You need a warm up before starting. There are some exercises you can do to strengthen your legs called 8 minute legs, available on Youtube. Also, try having multiple breaks. It is not ok to do it all at once. I swim regularly and I do it for around 2 hours. I feel ok afterwards.

• United States
22 Feb 11
The most likely cause for this is that you are using and strengthening muscles in your legs that you have never really targeted with exercise before. It should become less of an issue as time goes on, but for right now, do not give up. I would give it a couple of weeks, then if the problem persists I would probably see a doctor about it. One thing you may want to do is to take a break from swimming for a couple of days to see if the problem will go away. Perhaps your legs just need to rest for a little while, so go a couple of days without the pool then start back swimming again to see what happens...

• Pamplona, Spain
21 Feb 11
Hiya mathi, Swimming can be so relaxing and yet exhausting. It´s the only exercise that leaves me all energized for the Day. My legs were doing something like that too. But then I had not been Swimming for a long time either. I would practice warm up exercises like the Swimmers do but very gently at the Side of the Pool. Don´t take any notice of anyone you just get on with your thing. Move your legs like the Runners do before running a Race that´s a good one just to tone up. Swim as much as you can but without overdoing it and then build it up bit by bit. Hit the Shower as soon as you get out if you can to loosen any tight sore muscles hope you might feel better. Don´t give up though if you can help it I grew at least 4 centimetres when I was about 17 years old through so much Swimming I think as I went Swimming a lot then. Good luck.




• Philippines
8 Oct 11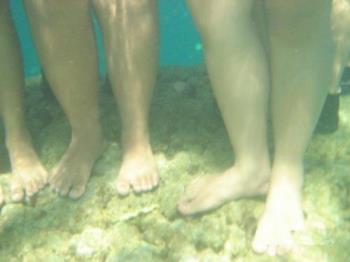 You should stop swimming not until you have addressed the issue. I suggest you eat foods that are rich in potassium like potatoes and bananas. Also those which are rich in calcium. Make sure you also get enough morning sunshine for this are helpful in building up strong bones too. Instead of swimming do some brisk walking exercise in the morning after some few minutes of simple stretching exercises. When you feel your feet has turned stronger then go and swim again but don't overdo and make suer you do some simple stretching exercises for at lest 10 to 15 minutes before you go to the water.


• United States
2 Apr 11
Hi. mathikyu. Welcome to myLot!

I think that the reason why that your legs are feeling like jelly, is because you have been moving your legs while swimming. When you move your arms to swim, your legs move as well. Your legs support the water. I think that you should just prop and elevate your legs firmly up on a pillow so that they can rest. I hope that your legs will feel so much more better. Take care.



• Leon, Mexico
23 Feb 11
Oh Sure!! Mathikyu, specially after a great effort, I used to swimrace for panamericans and I loved that jelly feeling= I did my best! Sure you have to stretch before... more or less for 15 mins. a little 10 mins walk, and then 5 mins. of stretching knees and ankles. Try to use the "table" to swim, so this will make your legs fortify more than the arms are fortified, try this for a year, your body will slowly get stronger. Blessings... Dainy

• Philippines
21 Feb 11
This simply means that the legs are tired, and the body is having a hard time. It could possibly be because of the poor blood flow. Stretching and warming ups would do.