Does your baby entertain himself?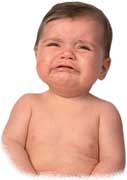 United States
February 21, 2011 8:39am CST
My baby just turned 5 monthas yesterday. I think he figured out that 'when I scream, mama will pick me up!'. I like holding him but I do have other housework to do so I can't hold him all the time. He will be happy when he is well fed and has enough sleep but once he is tired, he gets fussy. I have a question, do they feel bored lying down alone at this age??? I feel like he is very bored lying down, so I play music and entertain him when I can. Will he be happier once he starts to be able to sit up sturdy and pick up toys to play??
7 responses

• Philippines
22 Feb 11
When I first encounter that w/ my son, I thought "can he really get bored? he's just a baby!". But I think that they get bored too, because sometimes they really get uneasy and wont stop crying even if we give them milk, change their diapers etc. Here's the things that we tried. We place the crib in a different position, so new things to see for him. Or new atmosphere :). Sometimes we place him in his stroller and place him in front of the TV and let him "watch" some cartoons. Or go to stroll a bit outside so he can breath some fresh air. I really don't carry my son all the time because they will be used to it and might give us a hard time when we are busy. Hope these works for you too. :)

• United States
22 Feb 11
Thank you! He likes to watch TV a lot but I kind of don't want to build up this habit for him... I have heard that it is not good to let them watch TV until at least 2 years old. Chaning the position of his bed does help because it igves him new things to look at!


• United States
21 Feb 11
I used to have a african friend and she would take a sheet and tie her baby on her back while doing house work. Im sure you can buy those baby carriers that would work. Or you can get him one of those things with a seat and toy for him to play with. Keep him near you where you are working. Sometimes just being in the same room with mommy is good enough.

• United States
21 Feb 11
I think if I start that, he will refuse being lied down on his bed alone... so I'm not gonna do that. A lot of the time, I put him in the bouncing chair with me so he can see him then he will be happier.

• Malaysia
21 Feb 11
Our son is a pro when it comes to entertaining himself, takes after his father, haha!~


But yeah, when he gets too tired he'll start to make noise. Our son is 8 1/2 months now. And I agree with the above response in that you can let him have something to look at, a towel with many patterns & colours, stuff like that. It's easier later when he can sit up & play with toys. But at this stage, you could use blankets with patterns or clothes with colourful pictures, those are very helpful. We remember not too long ago when junior was lying down, he loved looking at my wife's comforter because of the colours & patterns. Not too long ago, the comforter was his good friend my wife said, haha!~ He's now holding the corners of the sofa & walking already!~ Just captured that on video today by my wife~!


• United States
21 Feb 11
I have the bumpers on his bed and he has been trying to roll over to look at them. I think that helps. But it doesn't take long for him to get bored then scream... I do have a play mat for him but he is not very interested in it. I think he likes to see me or papa to do silly things more than looking at the toys


• Malaysia
27 Feb 11
Hi, At the aged of 5 months old, your baby is more alert and will get bore if you keep put him lying down. It is time for him to explore more things and see more things around him. Of course, you are not able to entertain and hold him always,so play him some music or give him some soft toy to play around when you are doing your own things,at least he has things to get him entertained,but do check on him time to time to see he is doing well. As he grows up, he may want to explore more and you can always get those soft floor mat lie on the floor and let him play at the safe corner when you are doing your housechores. But once he started to crawl,then you have to be more careful as he will tend to grab things and crawl here and there. Put those sharp objects or any small things at high places,not within his reach. Enjoy your motherhood!!

• United States
28 Feb 11
I give him lots of toys in front of him when I sit him up so he can't entertain himself for a while but it doens't take long for him to get bored... I think soon he can pick up toys himself.

• United States
23 Feb 11
Well, I will start off by saying that by the time my son was this age he was starting to crawl. This said, he was able to entertain himself for a short period of time if I were to scatter a few different toys around on the floor and let him play on a blanket. I think that by putting things just out of his reach encouraged him to get mobile a little bit earlier. However, at that age I really don't think that a child can be expected to keep themselves entertained for more than just a few minutes.

• United States
28 Feb 11
My son has recently figured out that he can pick up toys but I have to put the toys closer to him so he can reach, he doens't know how to strech far to get the toys yet.


• United States
21 Feb 11
My kids were pretty good at keeping themselves busy. I usually tried to give them a bunch of toys to play with if I had housework to do. I used the highchair a lot for that too. I'd put them in it with some toys on their tray and they played while I cleaned. Once in awhile if it was warm out I'd put some water on the highchair and let them splash in it. That was entertaining for a long time lol. I babysat a little boy who would scream like that though. His mom had him so spoiled that if I walked away to try to do anything he'd scream. I just let him scream. As long as I knew he had everything he needed then I knew it was all about attention and I let him go. He very quickly understood and he stopped doing it. He'd either follow me where I needed to go or he'd sit and play.

• United States
21 Feb 11
Yea... so I am trying to just let him cry a little before I pick him up, and it seems like he is slowly getting it.