Have you joined Infinity Downline?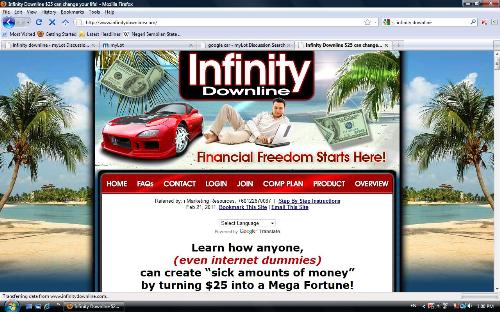 Macau
February 21, 2011 11:08pm CST
Hi mylotters! I have researched infinity downline (ID) for a past few months. There are very few negative comments about them. Infinity Downline is actually a Multi-level marketing scheme which sounds like a pyramid scheme. They plan to sell videos and courses on how to set up a website and use your computer more effectively. And they claim to provide sustainable income for their members. Some argued that the videos and courses can also be found for free online and their videos are useless actually and you can't sell them for money. So the main source of revenues for the ID members is actually their referral programme. I think that the referral programme is nothing other than the pyramid scheme. Since each person need to pay 25 USD in order to join and if everyone in the world joined Infinity Downline, isn't that there will be less referral for ID members? Besides, ID was started about 2 years ago. Has any mylot members joined this ID programme? I need the opinions to make the best decision. You are welcome to correct any misconception of mine!
2 responses

•
22 Feb 11
MLM is stupid because its hard to find members. if you ganna join, you should ask this question... "who is willing to pay 25 to join a website... they must be thinking the same thing you thinking

• Macau
22 Feb 11
MLM is hard to find people and personally I don't like begging people just like a salesman. But they brilliantly come out with a response that sounds something like this:"No business in the world will earn you money without any work. Infinity Downline, just like any other businesses, needs hard-work and perseverance in order guarantee success. If you just sit back and do nothing, you will get no referral."

• Philippines
22 Feb 11
anything about pyramid scheme is non sense for me since all aren't well in the end. Pyramid schemes were one of the biggest scams from the 1960s to the 1980s and sadly they still exist today. The internet seems to have rejuvenated pyramid schemes.we should have a better understanding of how sales people falsely state they work and how they falsely claim that great sums of money can be made.i was once a victim and i don't have any plans of making fool out of myself again.

• Macau
22 Feb 11
Thanks for your response! Frankly, this programme has disguise itself into a facebook money making scheme in my country which claimed that you will receive 100 Malaysian ringgit(approximately 25 US dollars) after you login facebook. This sounds too good to be true. But they insisted that it is not a pyramid scheme. Yeah, I agree with you. Any schemes that are similar to pyramid scheme should be handle with care, and it is quite risky too.