After filing a paypal dispute, Onbux suddenly paid my pending cashout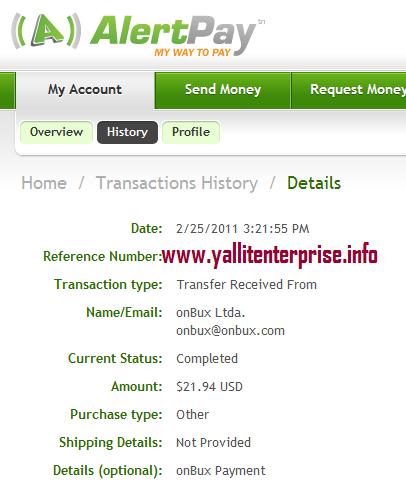 Philippines
February 25, 2011 3:05pm CST
Some of you may have read my previous discussion about me filing a paypal dispute towards onbux because of my pending payment. Just an hour earlier today, I suddenly received my $21.94 pending cashout. As I have mentioned from the previous discussion, I still need to recover about $20-30. Now that they've suddenly paid me, I now have recovered almost all of my investment except the time and effort to build my number of referrals of course. There's still no update regarding my dispute though. And I'm still able to access my account (as of post time) and reply to the forum. What do you think is the reason why they suddenly released my payment?
6 responses

• Hamburg, Germany
25 Feb 11
I did not invested in Onbux, but do not understand : if you invested with PayPal, are you authorized to cash out with AlertPay ? Have you asked to be paid with AP or with PP ? If it was a PayPal payment, I would have say that they have paid because of the dispute, here I am not sure. There are two payment processors involved here and it is not clear.


• Hamburg, Germany
25 Feb 11
A few possible reasons : - Your PayPal dispute, if they are threatened by PayPal to have their account frozen. They can prove their innocence

; - Your first discussion if they have read it -- but they cannot be sure that you will start another discussion immediately

--. By the way, congratulations : you are now positive at Onbux

.

• Mumbai, India
25 Feb 11
Your payment has nothing to do with the filing of dispute in paypal. It was just going to come around even if you dint file a dispute. If onbux comes to know of your dispute with paypal, your account is sure to be banned the next time when you try to cash out. I dint understand how you cashed out with AP when you filed Dispute for paypal. Even if you rented referrals with it, The cost of renting should either be equal or more to the cost of investment from paypal if you want to cashout through AP. Anyways if your cashout option had been Paypal, I am sure you would never have got your payment. As you had requested cashout through AP there is no connection of filing of dispute with paypal and getting paid with AP. Its purely a co-incidence. I just hope that they don't ban you next time. You should have been a little patient, there have been members who got their payouts after 20-22 days.

• Philippines
26 Feb 11
I was able to cashout via AP because I used 2 different payment processors. I upgraded via Paypal and rented referrals thru AP. Take note that they said they put my payment request at the bottom of the queue after submitting a ticket yesterday (Philippine standard time). Few hours after that I requested a Paypal dispute. And I just received my pending payment earlier. So, if this is all coincidence, I'd say I'm a very lucky guy to be the first one to be paid among others who have been waiting to be paid for weeks.

• Philippines
26 Feb 11
@moneyspinner
, the cashout rule says that you can request to cashout on different processors provided that the amount you're trying to withdraw is less than or equal to the amount you have invested through that payment processor.


• India
26 Feb 11
it seems unbelievable that you earned so much here...i know its true..but i can't believe my eyes...lolzz

• Italy
25 Feb 11
i don't know...till i use onbux i never had these problems cahing out from this site there is just a thing we must remember is that if you invest the majority of money using alertpay you will be able to cach out with alertpay only..and paypal too...

• United States
25 Feb 11
A Paypal dispute will usually get things moving. That is my guess. Don't know about you account though. Good luck.