Filipino issue of being "Super Sensitive NATION "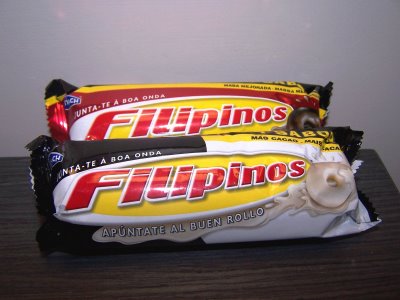 Philippines
February 26, 2011 10:02am CST
Hello Lotters

, It's not something that spark out of my mind recently. but when i was looking for a photo to edit in my next mylot discussion, i found this very eering blog about our place being like that. Not a referral LInk. http://lifeinus1960present.blogspot.com/2009/06/is-philippines-supersensitive-nation.html Honestly, I couldn't agree more. i find it very funny and disappointing. Simple jokes that are not entirely racist thing, and some mostly likely sarcasm or criticism against our government.though it's mostly indirect to the people, but such are based on facts, and these people involved were raised to be blunt and frank.

Why do we get angry when people have misconception about us? i don't think most of us are innocent in racism either. I think the title of the discussion has real "facts" behind it. it's a cold hard truth also that i continue to feel irritated at for some reason.

Anways, there's another blog (not mine) i like to show you.. Not a referral link. http://gibbscadiz.blogspot.com/2008/07/filipinos-cookies-not-race.html The FIlIPINO CHOCOLATE. http://www.filipinos.com/es/ Have a nice day.
8 responses

• Philippines
27 Feb 11
It's better to be sensitive rather insensitive, i would say. :P

• Philippines
27 Feb 11

Well, sensitive but why the government has to be part of it, i believe online or global community is enough.

. the legislators should have been more focused on more complicated problems rather than these kind of remarks merely coming from the comedy shows.

• Philippines
27 Feb 11
because the government is... is... is... nevermind! LoLs

• Philippines
28 Feb 11
well for me its true that that we Filipinos are very sensitive it's because we are also loving people...because of the love we have for our country so we react so much if there are people discriminating us or say something about us,we have this eagerness or feeling to fight for our beloved country.

• Philippines
1 Mar 11

Hello purplefury. And what if we have movies or comedy stuff that has some insults to the other race. most specially the ones we feel annoyed with somehow.

for example, this movie here. gives a huge bad perception of what the people of India are in the Philippines. have you seen people in India (including the Govt. getting mad at?) not a referral link. http://www.youtube.com/watch?v=QusLouQhEfo

• Philippines
1 Mar 11
this might sound biased but i can't see something wrong in that video..but i do understand what they feel if they get the wrong end of the stick of that video..i think just to end this all up we people in this earth should be more sensitive on what would the other nations would feel if we make fun stuff or say something about them that they would get the wrong idea about it and end up having the worst War...right???

• Philippines
1 Mar 11
Just imagine if a Filipino is the one being portrayed there if it's done on another country, surely i wouldn't be surprise if the people would go rage on them. it's alright when we make fun of others but vice versa seems not alright.

• Calgary, Alberta
27 Feb 11
Its something that makes me facepalm a lot because in a way Filipinos were kinda racist too and no one whines in the racist jokes on our local tv.What is wrong with being compared to chocolates. In the west chocolates means sexy. I'm also annoyed with the exaggerated Filipino pride because its not really helpful. Its all words no action.

• Philippines
27 Feb 11
Hello Captain-Albert-Whisker

, You're absolutely Right, some are even criminals on other Asian countries and it's really a bad reputation thing.

. well, it's a good thing and i've read in one of the comments that the chocolate was inspired by the people of Ilocos that made them this and brand as "filipinos". it's really cool though having a chocolate named by us.


• Calgary, Alberta
21 Jul 16
@LetranKnight25
Sorry for buimping an old discussion, But speaking of Filipino sensitivity, I remember how pissed of I was with NCAA , a government sector in our country because they want to ban tekken 7 because of the Filipino character Josie Rizal is inspired from Jose Rizal.

• Philippines
27 Feb 11
hello LK, I am proud being sensitive rather than being "insensitive"

So what if FILIPINO's are sensitive? That makes us caring,loving and thoughtful people in the world becoz of our "sensitiveness" I don't want to belong to any race that doesn't know how to care for other's feelings,emotions,etc... I would rather stay in that case "SENSITIVE" (so what....)

Have a great Sunday.


• Philippines
27 Feb 11
Hello Sis Jaiho

, I think it's more of an understanding why they made such remarks. we easily get offended, and i use to be one of them more often. but of course, it's something that people should listen to and ask why would they say something like that if there was no facts. I care for our people, but i think we still need to have this remarks seen as a encouragement to be better and not to be mad at. the point is we should strive always to prove them wrong about the negative remarks that bestowed upon our nation. primarily, they do this because of our situation now..

Good on weekdays

• Philippines
1 Mar 11
hello dear bro, Yes,instead of sourgraping...let stand and be proud of. Why affected with such comments...we are not the only race/country that suffers such bad/negative comments by other race/racists especially. We knew in our hearts who are real Filipinos are...we knew better than those judgmental fools...


• South Africa
26 Feb 11

So, you are a sensitive race. I don't see anything wrong with it. Sounds better than barbarians doesn't it. Guess who they are?

Now, keep your chin up and be proud of what and who you are. As for the cookies, sorry i cannot even taste them as i would go nuts or something. Ignore children sweetie. They tend to get annoying. TATA.


• Philippines
26 Feb 11
Hello Saphrina

, I don't mind being proud but i think knowing my country, there are a lot of flaws that people don't talk about here. and instead, they notice it when ever a foreign show makes a joke on it, something that Filipinos should also see in the society and other things that foreigners gets their attention at. though should be more focus on the proving still that flips can do equally better. we should try to be tolerant and prove we deserve respect too.



• South Africa
26 Feb 11
Every person on this planet has their flaws, sweetie. That's what makes us human. Foreigners will always be a pain the butt. The whole world can actually learn a lot from the filipino's as they are not so full of crap as the western countries. You haven't met me yet.

Now smile.


• Philippines
1 Mar 11
I think this could well be explained by the saying " Ang Magnanakaw ay galit sa kapwa magnanakaw" we tend to over react on issues such as this because we ourselves our guilty of doing some criticism to people of other foreign nations. I think instead of dwelling on the bad side, why not focus on the positive side. If the Filipino people or the Filipino nation as a whole get comments, such as this, from foreign nations it doesn't only mean that we are being criticized, yet, it also means that we are being recognized by other countries. Our talents, our citizenship are not being taken for granted. They may not see us as the best, but at least what we have and what we are as filipinos, are being recognized. Respect begets respect. cliche as it may seem but it is as simple as that.

• Philippines
1 Mar 11
Hello Dame

, Such criticism should be considered as a positive way to improve ourselves. well, it's better not to see us as the best since they expect a lot from people who are the best. i'd rather be the filipino who surprise them rather than brags and let them expect much from us.



• India
27 Feb 11
hi, thank u for the chocolate and wishes of a niceday, the world is full of good people and sensitive and more caring loving persons.Only thing is that we shd hav time to understand all.

• Philippines
28 Feb 11
Hello umab

, That's so true, but unfortunately, even for my people that has a hard time understanding EACh other's culture.but being sensitive should be in terms of supporting the others and be self less and not get mad when ever there's a criticism comes a long.



• Philippines
27 Feb 11
I truly love the chocolate. but this is something that filipino shouldn't be whining about. truly that our people had become very insecure with what's happening lately. i feel bad that our people had reach this moment, where they take everything seriously when it comes to people jokes around them



• Philippines
27 Feb 11
Hello Mikaela,

Well, with all the being "looked down upon" it's something that Filipinos couldn't take anymore. i guess through out history we've always been treated as the under dogs and not something to be respected at.

no one cares what we did in the past, or when we used to help other countries, everything seems to have been forgotten.