How Come Hollywood Starlets Looked Better Years Ago?

Carlisle, England
March 1, 2011 7:29pm CST
Jane Russell died on Monday aged 89.

I asked Mum if she was a favourite of Dad's but she said, "No, not really, it was Kim Novak" so I shall research her later on Google as I've never heard of her, I'm ashamed to say.

Jane Russell's death got me thinking though. It got me thinking about how gorgeous the Hollywood actresses were years ago, including Marilyn Monroe of course. The pair of them are so photogenic, even in colour lol. I would love prints of each of them on bedroom walls, I really would. I am itching to go on the EasyArt site but I will refrain from doing so..depending on how much I get for my MD player on Ebay. Haha! I doubt the gals I mentioned above wouldn't be ALLOWED in Hollywood now as they would be deemed too fat. In my opinion Jane, Marilyn and others had figures to DIE for thank you very much. How dare Hollywood parade a bunch of stick-insects to the masses. Oh, and none of the Hollywood guys rocks my boat either. Bring back the smouldering looks of Steve McQueen thanks! He could act too! Do you think the same? Or do you prefer the modern stars..and why?

11 responses

• Shingle Springs, California
2 Mar 11
Because they were young, and now they're old? Ohhhh.... You mean, never mind. lol Don't forget Rita Hayworth, she was probably the most gorgeous woman ever to hit Hollywood. The only modern one who comes close imho is Katherine Zeta Jones.

• Carlisle, England
2 Mar 11
Yes, Rita is one of a few I've forgotten but there again, we're not allowed to make lists lol. Catherine Zeta Jones is wearing well isn't she? Very glamourous woman..and Welsh too of course, not that that's significant but I just thought I'd mention it.


• Shingle Springs, California
2 Mar 11
And she can sing, dance and act....

• United States
2 Mar 11
Modern "stars"? You are kidding, right? Charlie Sheen, Lindsey Lohan, Paris Hilton...I call that bullsh*t, not "celebrity". I'll take the old movie stars anyday to this bunch of misfits. And I liked Kim Novak too. My favorites: Doris Day, Debbie Reynolds, Rock Hudson, Paul Newman, Robert Redford, to name a few and Steve McQueen. There are very few actors/actresses I like today and I like their politics even less.

• Carlisle, England
2 Mar 11
What a great array of names that is.

I do know Dad loved Doris Day as well. It's strange, I'm only 44 but I am more aware of most of those names you mention than the so-called "stars" of today. Just goes to show they don't have the same (if any) impact on me...or anyone else come to that.

• India
2 Mar 11
Girls from yesteryears were better looking and beautiful as it was the faces that we noticed. With so much of the other bodywork on display, with starlets today, who notices the faces nowadays anyway? Now that is the physical part of it. As for talent, the technology was primitive those days and it actually needed acting skills, besides good looks to carry the story. Today all you need is a hunk or a doll who can posture. Rest is taken care of by the technology. Alas! Technology has actually killed talent.

• Carlisle, England
2 Mar 11
I agree totally, especially that last sentence "Technology has actually killed talent." I quite like Julia Roberts as she has an unusual, expressive face. She doesn't mumble either like many actors do now. I would say two of my favourite male actors are Kevin Spacey and Tom Hanks..and I've never seen Morgan Freeman in a bad film. Having said that though, I've not seen them all so there's bound to be a few! I loved his collaboration with Jack Nicholson in "The Bucket List" that I enjoyed very much. Those types of films are rare nowadays..ones where you concentrate on what they are SAYING.

• India
4 Mar 11
My personal favorite is Julie Andrews. I was just into teens when I saw "The Sound of Music" and have been hooked to her since. They don't make movies or actors like that anymore, do they?



• St. Catharines, Ontario
2 Mar 11
Kim Novak starred in Bell, Book and Candle, for one... also Vertigo and Picnic. I always liked her. She retired in the 90s, I think.

• Carlisle, England
2 Mar 11
Is she the one that snogged James Stewart (another one of Dad's faves) in his wheelchair? James Stewart was in Vertigo wasn't he..I'm not mistaken?

Also, was Jane Russell in that Baby Jane film with Bette Davies? Wow, that was a creepy film but it was ace!


• St. Catharines, Ontario
2 Mar 11
Jane Russell was not in Whatever Happened to Baby Jane? That was Bette Davis and Joan Crawford. As for Kim Novak and Jim Stewart, that was Vertigo. The one with Jim Stewart in a wheelchair was Rear Window (he had a broken leg). Grace Kelly played his girlfriend in that one. Both films are Hitchcock classics.

• China
3 Mar 11
I don't know the Hollywood starlets who you mentioned well.It seems to me that they are your favourites.You mean to say the past is superior to the present as far as the hollywood starlets's figures is concerned. I think if the aesthetic standard differs from times to times.Here in old times the Tang Dynasty (618-907 A.D.)'people took girl with a plump figure as beauty.

• Carlisle, England
3 Mar 11
I wish I was around then lol.

Seriously though, most guys I know don't even like really thin women so I don't know why actresses feel the need to be so slim/thin. If a voluptuous woman came on the scene she wouldn't even have to TRY to be sexy, it would all be natural.


• United States
2 Mar 11
Hollywood starlets looked way much better than todays stars because their beauty is natural, they have grace, poise, and talent. My daughter who is 6 adored Rita Hayworth (from youtube clip dancing jump in the line) and I asked her why Rita and not the Disney stars...and right out of her mouth, she said..."She looks so classy.." Bingo.

• Carlisle, England
2 Mar 11
Wow, your 6 year old is very astute for her age. Rita Hayworth is classy, she is so right.


•
2 Mar 11
Because they don't try anymore. There are so many advancements in technology today they can be ugly and the computer enhancements will makie them look like a beauty queen.

• Carlisle, England
2 Mar 11
That's very true. HD does bring out the wrinkles, I believe but I don't see anything wrong with that, personally. Even with HD the likes of Jane Russell would still look perfect, I'm sure of that.


•
2 Mar 11
I agree with you there Jane. This obsession with being a stick-insect is crazy. At the end of the day the personality behind the person is what really counts. As you so rightly said, Steve McQueen could really act and many modern actors these days are so sort of "cardboard cut-outs" that speak. As an adolescent it was those curves that drove my hormones crazy - nobody every really looked as "thinnies". I guess times change. I am glad that I am no movie star though. I always get to think how awful it must be if you are crippled with arthritis or some other age-related problems watching yourself on the screen as a beautiful youngster when life was fresh and exciting.

_Derek

• Carlisle, England
2 Mar 11
Doesn't put our Joan Collins off though. If you look above in this discussion there's a pic I've posted of THAT dress she wore at the Oscars. She wanted a limo but her husband wanted an ambulance!

She was admitted because the dress was too tight and it was restricting her movement, etc. We've all been there lol.

I know what you mean about them having to "keep up appearances" so to speak. There is another pic of her that's a bit cruel because it shows her belly (earlier on in the day when she wore jeans and a tight top) but I refuse to show that one as I'm not catty like the press!

•
2 Mar 11
You probably won't be surprised to learn that I have absolutely no idea of the names of any modern starlets Janey. But I can instantly place Jane Russell, Kim Novak, Joan Collins, Jane Mansfield et al. I like women to be Rubenesque. I.e voluptuous and not size 0 or less. Women are blessed with curves and I think that those are worth celebrating. I don't doubt that those earlier actresses were to some extent the victims of the male dominated film studios but at least they seemed to revel in their femininity.

• Carlisle, England
2 Mar 11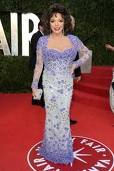 I've been watching some Jane Russell clips and she's amazing isn't she? I'm so glad she didn't go the same way as poor Marilyn.

I love the costumes they wore too. In actual fact, Joan Collins carried that on at the Oscars. The poor woman had to go to hospital due to her dress being so tight, bless her. She looked amazing though. 77 and still partying until the early hours. That's our Joanie!


• Philippines
2 Mar 11
Its probably because they are new and their fashions are way too greater than before.