Do you know what a 300 calorie look like?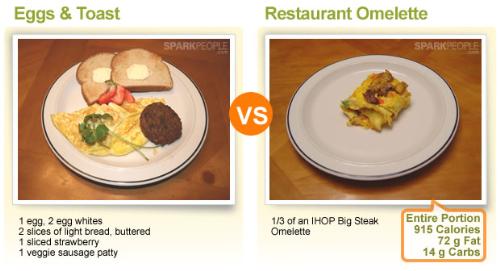 Philippines
March 2, 2011 6:24pm CST
I was going through my mails this morning and i received one from a health site that i subscribed months ago and yes this was the topic in that newsletter. All my life i was wondering how calories are counted, i do not even know how to read them, or how much is too much or how much should we take..and in that newsletter, they specified what a 300 calorie diet should look like and i even posted a picture of it.. so do you guys count calories? do you like read the back of the food package to see how much calorie does it have? because i don't hahahaha i do not even care how much calorie i take! as long as my tummy is satisfied and i am feeling good...carpe diem! at the picture, the egg and toast is the one with the 300 calorie count
4 responses

• Romania
3 Mar 11
Hello Jazel_juan, You must be a hell of a lucky person like I am. We must be so thankfull that we don't need to count our calories! But imagine you were an obese person and you were fighting the bad habit of eating too much. This would be so sad! Me, too, I never count the calories and I don't care what it is written on the back of the food package to see how many calories they have. But I do look at the label of the food when I buy it to find if it is a healty food. I try to eat healty, I try to stay away of fake foods with too many colorants and flavor enhancers.

• Goa, India
3 Mar 11
I completely agree Inu. I have the same weight that at 15 years, and I do not count, but what it important is to avoid junk and take healthy food, including various vegetables and fruits. Calories are important for weight watchers but vitamins and trace elements are more important for health.

• Philippines
4 Mar 11
I don't know how to count calories, but I just estimate if I'm already eating too much. If I'm not physically active, and most of the time I'm not, I don't have to eat too much calories. As I have understood, calorie is the unit for energy and energy-giving foods are the Go foods (as in the Go, Grow, Glow in science). And calories (energy) unused will be stored in the body as fat. So eating the right amount of calories for your lifestyle is key. That doesn't mean you have to starve. You can still eat the Grow-Glow foods.

• Philippines
4 Mar 11
hahahaha but you are do not have to worry about such because you are thin! i envy you because you really do not gain any weight at all

no matter how much you eat! i have always wondered that ever since


• Philippines
5 Mar 11
Lol. I did gain weight. I'm not as paper-thin as I used to. lol. I even got to a point where I'm the fattest in the house. But then again we're a petite family, so everyone else is thin and gaining a few pounds would really make a big difference on who's the fattest.


• Philippines
8 Mar 11
Yeah yeah all of you are all thin

hehehe You did not gain at all hahaha you are still the same..well ok you gained a bit..but it still does not make a difference hahaha

• United States
4 Mar 11
Nope because after all the first 3 letter of "Diet" is "DIE"


• Philippines
8 Mar 11
Yes i agree swirls, diet is like picking which ones will be beneficial, like one mylotter said, i need to count calories lol he said if i want to loose more weigh, i need to pick foods which has less calories and i must take less than 1900 calories a day..but thats like crazy counting it hahahaha i tend to pick veggies and fruits lately


• Philippines
8 Mar 11
I really do not know how to count calories. What i count is the money spent. LOL...

• Philippines
8 Mar 11
Me too. i am better at counting money...that is if i have the money.