Why do dogs LOVE to eat tissue paper?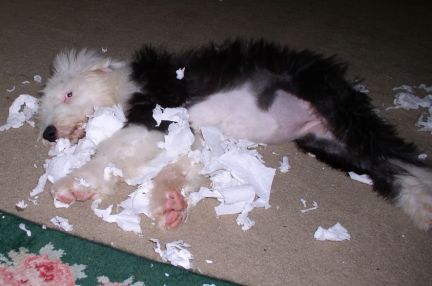 Philippines
March 8, 2011 5:34am CST
I have a friend who has a border collie that is obessesed with eating tissues, paper towels and paper napkins. He is very obedient, extremely smart and absolutely knows that tearing up tissue is a big "NO NO". However, he can't seem to control himself. Apparently lots of dogs share the same obessesion. I'm not really looking for tips on how to stop this behavior. I'm just curious if anyone has explanation why dogs love to eat tissue?
8 responses

• Romania
8 Mar 11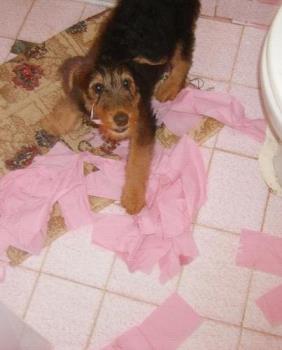 I think they like to tear up paper towels as part of their hunting behavior. When canines catch a prey, they shake it and tear it and then start eating the flesh. Our family dogs don't have alive game to hunt, so they hunt... paper towels.

It's easy to catch and easy to tear up, so it must be a lot of fun to make dozens of little pieces of paper. Here's a picture of Binne, proud of her 'paper work'.

• Philippines
9 Mar 11
Well, I do think it's part of a dog's behavior. Love to see them play really. Sometimes if they get all the attention they went hyper and everything.

• United States
9 Mar 11
Oh Binne is funny. inu... myempress, another option are lots of chew toys, make sure the dog has enough variety of toys to keep him happy..


• United States
8 Mar 11
Oh my, I thought that dog looked familiar...I have two border collie/beagle mixes and Ciara, the one who has the border collie fur, eats anything and everything, so maybe it's the breed..I mean this dog will eat our walls and when she was little, she found a hole in our couch and started chewing on it..

I also have caught her with a paper towel before too. As for your friend, tell him to just keep the tissue paper up out of the dogs reach until he grows out of it. Ciara is just over a year now, and hasn't chewed on our wall for a few weeks...


• Philippines
9 Mar 11
lol dogs dogs dogs. Yeah I always tell him to keep it out of reach of his dog but I don't know why his dog will always find it's way to get it hahaha, smart dog.

• United States
9 Mar 11
Oh I already read up on the border collie, they are very smart and they need challenging activities. Your friend should look into making an obstacle course for his dog, it will challenge his intellect and give him the exercise he needs..My daughter and are looking to make one for our dogs..

• Romania
9 Mar 11
Really? I'd like to have something like this for Binne.

I can't build it on our land before building the house, because it is quite far to go there every day just for exercising Binne. But I thought seriously about asking the mayor for a piece of land, to build an obstacle course. We don't have any place for dogs in our town, so maybe if I am persuasive, I will convince the authorities to give us a piece of land to build a public place for dogs' entertainment.


• United States
8 Mar 11
Good question! We have a labrador who likes to eat the tissues a alot. He would steal it from the paper bin and shred it, sometimes swallow it actually. He used to do that a lot when he was a puppy then we told him to stop everytime when he does that. But recently, he has started this habit again, I wonder if he wants our attention or he thinks it is a game for him; because when I tell him to stop, he runs away and acts very playful!

• Philippines
9 Mar 11
I think they do love to tear and eat it because it's soft white and maybe just wanted to play, just a dog's thing. It's fun though but we really need to discipline them sometimes.

• United States
9 Mar 11
I think it is entertaning and funny to watch himdoing this but it's a mess afterwards.. I have to pick them all up...

• Philippines
8 Mar 11
Perhaps because they are enticed with the smell of the tissues, paper towels and paper napkins. Also, it may taste a lot like bread so they go gaga over them. t's wild wild paper crazy for dogs out there. :)

• Philippines
8 Mar 11
Lol yeah could be too, it's funny when they do that but it gets annoying later on. My friend have to keep her tissues safe with her dog lol.

• Philippines
8 Mar 11
Yeah, I can imagine the mess after that.lol


• Philippines
9 Mar 11
I guess, they don't actually eat the tissue paper. They just love tearing them up because it's easier. I think , after tearing those tissue papers they feel like they have conquered something!


• Philippines
9 Mar 11
My dogs do that too but only if they saw a tissue paper in the floor. My dogs eat or play almost anything they see in the floor or within their reach.

• United States
8 Mar 11
I had a golden retriever and he always did that. Took all tissues out of garbage. Take care.