What TV Series / novel is your favorite??? And the most you don't want to miss e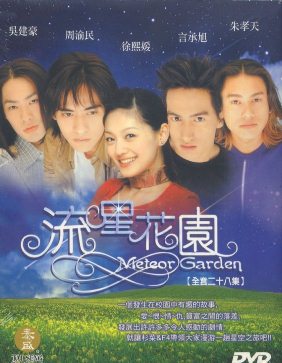 Philippines
March 9, 2011 9:44am CST
For me, it's the Meteor Garden from Taiwan starring Barbie Hsu, Jerry Yan, Vic Zhou, Vanness Wu and Ken Chu., I really love to watch this and I even miss my classes just to watch Meteor Garden… The Meteor Garden is about the group called F4, a 4 boys in school and centers around a poor teenage girl named Shan Cai (Barbie Hsu), who at the insistence of her parents goes to a university for rich people. The university is dominated by Dao Ming Si (Jerry Yan), Hua Ze Lei (Vic Zhou), Mei Zuo (Vanness Wu) and Xi Men (Ken Chu), four rich and handsome but arrogant students collectively known as 'F4', short for 'Flower 4'. They are heirs to four rich and influential families in Taiwan. They terrorize the school by handing out red cards to those they do not like, which allows other students to bully the victims until they leave the school. After one of Shan Cai's friends receives the wrath of F4's leader, Dao Ming Si, and receives a red card, Shan Cai stands up to Dao Ming Si and slaps him, which in turn results in a red card of her own. However, Shan Cai's persistence in standing up for what is right gradually gains F4's respect and Dao Ming Si falls in love with her. I really miss watching this… Hope you can share the best novel or series you have been watched and share the story about it…
3 responses


• Philippines
11 Mar 11
yeah thats pretty interesting, thanks for the response... maybe if you can add what is the story about... thanks

• Philippines
9 Mar 11
hello patricia, One of the tv series that i really liked and don't want to missed also is Meteor Garden. But before that,it's "Marimar" by Mexican actress Thalia Sodi Miranda. Then,after Meteor Garden,it's "Hwang Gini" Have a great day


• Philippines
10 Mar 11
well, were the same Ive watched marimar too.. because my mother always watched that when i was 10.. i always remember imitating thalia while she dance in the opening song... But there are so many intimate scene so sometimes my mother are not allowing me. So the only telenovela I didnt miss is the meteor garden.. Thanks for sharing...

• United States
9 Mar 11
Right now my favorite television series would have to be NCIS or Naval Criminal Investigative Service. It is a really good shoe based on navy crimes and murders. It's similar to Criminal Minds if you've ever seen it.

• Philippines
10 Mar 11
wow that's good i like to watch that kind of series too... it really thrilling to watch those kind of series.. thank for the response...