I just want to be a driver…for my kids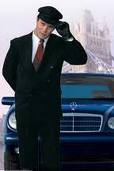 Canada
March 10, 2011 11:53am CST
When long days at work get me down, I often go day dreaming about what I would rather be doing instead of being here doing my job. And I would often come to the same conclusion, that I would just rather be a driver! I would just want to spend my days dropping off, and picking up my kids from school, and driving them around to their after school activities. Of course I would want them to be involved in more sports or fun things to do away from school, and I would just be happy to give them support, the cheerer, the driver, the bag-holder, the lunch and snack preparer, their coach, their manager, their wake-upper(?) etc. Never mind that I have an engineering degree, and I work in a fast-paced corporate world, and do technical things which only a few certified people could do. I think I would just be happiest most in this otherwise simple role. Now if only this role would pay as much! Do you ever feel that way? What role would you like to be for your kids? Roles which are over and above the duties of a parent?
8 responses

• United States
10 Mar 11
I'm primarily a stay at home mom.. so what you describe already is my role, and I'm not really happy with it. I have days where I enjoy driving my kids around, then I have days where I'd rather not be bothered by it. I guess I'm kind of lazy most of the time. Today I'd rather be taking a nap! I guess for you it's because you are not the children's primary care taker.. I assume the wife is? For me because I am the primary care taker and have already spent 8 years being the driver, waker upper, snack maker, etc that I'd rather be doing just about anything else but that. When I day dream about where I'd rather be, it usually doesn't involve the kids (sometimes involves a nanny to do all my chores and tasks).

• Canada
17 Mar 11
I think I'd be singing your tune too if I would become the 'primary care taker' day in, and day out from now on. I'm sure that in a few months, I'll be so lazy too. I think my feelings are just borne out of being at work day in, and day out. And that I've missed a few of their 'discovery' days.

• United States
17 Mar 11
My husband feels that same way sometimes. Actually for awhile I was trying to convince him to quit his job because of how much he was missing out on. He sees it whenever he takes a vacation from work (where we don't normally go anywhere he just gets a few days off). He sees what he misses out on and it's hard for him to go back to work. But at the same time, he really loves working. I think if we were in a position where we didn't HAVE to work, he'd still find a job or volunteer or something just because he likes work and feeling productive. He doesn't always love his job.. but he likes working.

• United States
13 Mar 11
There are roles that I already play for my children that are outside of the realm of a normal parent. I've been a Girl Scout Leader for my daughter's Girl Scout Troop. I've also been a driver for her mostly (but also for my son and niece) for swimming and gymnastics and other activities. I'm their biggest fan with whatever endeavor that they undertake. I'm also my children's advocate. I want them to have the best that they can possibly have and that isn't possible if I'm not an advocate for them.

• Canada
20 Mar 11
I know what you mean. And even if others may think it is a mindless job, I think it is much more rewarding than my job, if we took out the financial weight, I mean. Sometimes, I feel I just want to be around them at some of their special moments. Thanks.

• China
11 Mar 11
well,to be honest.I am envious of your life,I am a chinese,living in China presssure was simply too great,I'm no time and energy to like you.but I will still love my kids ,with some other way,some different from you method,way though may be different,bu I think my kids will be fun and happy.


• United States
10 Mar 11
I do see what you mean with this because in a blink of an eye the kiddos are grown adults. So I can see where although it is so needed to work to provide that it would be so much fun to be around them as much as we can. Before you know it they will drive themselves everywhere and make their own meals.


• United States
10 Mar 11
I think that sounds like a nice job to have. The driver. Right now I do home daycare so I can stay home with my daughter and some days I wish it was just her and I we could go more places and do more things, most days she really enjoys having the other kids around it is really good for her. She 3 almost 4 so it is nice for her to have friends over all week. I keep wondering what am I going to do when she does goes to school as I would like something with a bit more flexability. I am lost as of right now and have a few years to decided but I know that I will not be the employee that I used to be as she comes first now. Funny how children change your prespective on things and how much time you want to spend with them. I am happy to have stayed home with her as I don't feel like I have missed any of her firsts. Although I have figured out I love shopping for baby clothes so maybe one day I can be a baby clothes shopper!

• Canada
17 Mar 11
That sounds like a great idea! I wonder if anybody would pay for that?! I know what you mean aboug not missing some 'firsts'. I've always been working and sometimes I feel guilty that I've missed a few discovery-days of my kids. And I think this is the reason why I just want to be a driver. To be around all the time and not miss anything else.

• United States
10 Mar 11
Hello bounce. I think that all of us have days or times when we would rather be doing something other than what we have to do. No matter how much we like our jobs or families we have time when we would like to be somewhere else doing something else.

• Shingle Springs, California
10 Mar 11
I'd just like to be able to be home with them more. but it's looking like it's going to be less, not more...