Blind person may be a brilliant like general person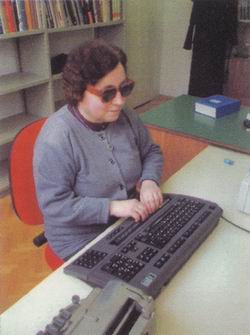 India
March 12, 2011 2:07am CST
When I was in Law College I have seen one girl was blind but she is more brilliant than me and she is my good friend. She is completed LLB with me and then take admission in LLM also. Every person can do anything if their wish is powerful. Share your thoughts really I am saying true or not. They can do everything like music, sing a song, computer, LLB and more courses. Some instruments also made for those persons. But I always think when I see a small child and he is blind. and think God ki lila nirali hai.
6 responses


• Canada
13 Mar 11
I love Helen Keller's story, it's so inspiring! :-) I also read about her teacher, Anne Sullivan, she also had a vision problem. She was a very determined woman and didn't take any guff off of anyone, including Helen.

• United States
12 Mar 11
Yes I find anyone with determination, faith and positivity can pretty accmplish even the most impossible tasks in life. By the way we have a blind member here in myLot, although he has not been active for several months now. He allowed us to see many of his daily life on video and he was completely blind with special equipment that allowed him to input his discussions and responses into the computer. It was amazing and I so enjoyed his strong efforts. He made me realize that I needed to appreciate the handicapped even more because of his wonderful determination.

• India
12 Mar 11
Thanks to accept my positive views and really thank to those person who made this type of instrument or equipment which is helpful for blind person and they also can work like common human being. Really I am agree with you it is amazing and I also appreciate my all friends who cant see the world by eyes but they can see by heart and feel it.

• United States
13 Mar 11
Yes...sure, they are soo special...and the fact that they cannot see make them more and more strong...so any activity they start, they give their best and then come to be a great person. I think when we have difficulties in our life we come to be more strong. And all the problems have simple solutions... be blind doesn't mean that those people are less than somebody who is not blind. we are all same! love!

• India
13 Mar 11
Yes friend you are saying true when we are facing some difficulties in life then we can make strong and solve the problems with simple solutions. We are all the same thanks for your views

• India
12 Mar 11
yes friend u are saying these words are great and inspired with who are seeing this girl.One thing i am telling to u if we have eyes we saw many things infront of us around the world and they are not seen the these worlds or sorroundings what we are seeing but they only see the power and we never see the power because the blind persons can saw only the power but we are not why because they have lots of power and self confidence at that time also they did a great thing even also the god can see the blind person what he did. I have one friend he is typing proffessional and he is a great typer and he is blind his speed is almost all 92 but my speed is 50 nearer to that one see a blind person defeats the normal person like me its great at that time he is blind when he starts seeking tying with in one year and became a great typer he is great. Thanks for giving the message and i will commented on this one thanks for this.

• India
12 Mar 11
Yes friend it is true really blind person can defeat a common person like us and they have the power to see not by eyes but by heart and feels also

• Canada
13 Mar 11
It is definitely very heart-warming to hear others acknowledge that us blind/visually impaired people can do the same as normal people. It's true for anyone who has a disability, that we have a lot of determination to "push out" into the world. I believe that deep down inside we want to be like everyone else. We want to prove to everyone that we can do the same things that others can do, with the right adaptations and equipment. That's how I see it, anyway.