Yuro a rebound dog?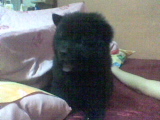 Philippines
March 12, 2011 8:10pm CST
Hello Mylotters, It's been 18 days since our two years and eight months old (2.8) bear chow died it was really sad and we are still in the process of accepting it but since my sister cannot recover from this my mom bought another bear chow exactly look like our Scoobe our friends even said that Scoobe was reicarnated

but this time in a male body well most of the time i or we still remember our Scoobe but Yuro helped us to move on and accept that Scoobe is gone and he need our love and care. But sometimes of course we cannot help or mostly me i cannot avoid mentioning Scoobe or comparing Scoobe to Yuro i know i should not because Scoobe doesn't exist anymore only in our heart and mind

. But of course we love Yuro and i know i should not compare him to Scoobe because each individual has it's own identity. have a great Sunday

5 responses

• Romania
14 Mar 11
Hello bhabycatch013, I think it is nothing wrong to compare your previous dog with the one you have now. We can't help it. Me, too, I compare nasty Binne every day with my gentle Nera.

They are the same breed and most of their traits are similar (not only phisical traits) but I still can find differences among them, especially in the level of energy and stubborness. For you it must be even more difficult to stop comparing Scoobe with young Yuro, as you said they look exactly the same. But I'm sure you love Yuro for what he is, not for being
the reincarnation of Scoobe
.

She will always be in your heart and you will always remember her.


• Philippines
14 Mar 11
hi inu1711, Of course i love this snobbish, stubborn, playful and super active Yuro

he is really adorable one but of course Scoobe will always remain in my heart and we will never forget her. thanks for your response happy mylotting


• Philippines
15 Mar 11
Hello Bhaby

, Yuro is a very lovely dog. though, he is male and different, he deserve some level of love and am sure scoobe don't want to see her boss cry. do your best in calling in his name alone. besides, am sure scoobe is in a better place now, i think that deceased dog is greatful that you loved her until her time.

.

• Philippines
15 Mar 11
Hello LK, You made me

i'm trying to do that beside Yuro is really an adorable one but of course i still miss her i just hope she is in the better place. thanks for the response happy mylotting



• Philippines
14 Mar 11
hello bibispark2,

have a nice day ahead!


• Philippines
13 Mar 11
hello bhaby, I love scoobe...and i missed her. But yuro is so cute that i can't help falling in love (sooooooooooooooo much) I understand how you missed scoobe...she will never be forgotten. Just try to give the love and care now with yuro,he's so sweet and very lovable like scoobe (they look alike anyway hehehe)



• Philippines
13 Mar 11
hello jaiho, I agree with you Yuro is cute and much alike with Scoobe of course i love him and i care so much, you find him so sweet even he is so snobbish?

. thanks for the response happy mylotting


• United States
13 Mar 11
Well, obviously you can't help but compare dogs, especially two dogs that look so much alike and especially when you are recovering from the loss of one dog. I know how much that hurts, unfortunately. And while Scoobe might be gone, it's good to keep her memory alive by talking about her and the things you used to do with her without neglecting your new dog. I am sorry for your loss and I hope you have many happy years with Yuro.

• Philippines
13 Mar 11
hi raineyes, Mom gave Yuro to us so we can recover from what happen we cannot neglect Yuro because he is so active and playful it's just that i can't help not to compare him to our Scoobe, we also looking forward to spend more years with him maybe 10 or 15 will do


. thanks for the response