Do you also name your pet fish?

Philippines
March 18, 2011 6:17am CST
When I was young, my mom brought this huge aquarium and we placed it on our receiving area. I started to buy different kinds of aquarium fish and gave them names that I feel best suits them. It's kinda fun everytime i wake up and do a count off of my fish with all their names. My mom found it hilarious of me to memorize my fishes name. If you gave names to you pet dog, cat, or birds, have you tried giving your pet fish their names too?
5 responses

• United States
21 Mar 11
You are not alone with naming your pet fish. When my siblings and myself were children, we were all given our own goldfish. We all named our fish. I remember that mine was named April because that was the month that I was born in. My brother's fish was named Chris Sabo because that was one of his favorite baseball players at the time. I can't remember what my sister named hers, but it had a name as well. Well, our fish really didn't last for a very long time.

• Philippines
9 Aug 11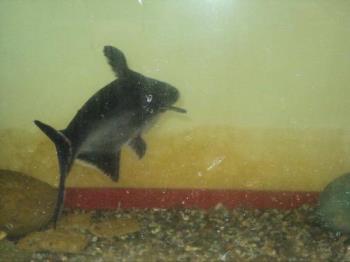 That's funny! You gave me an idea! I think I will also name the fishes in my aquarium. I wonder what cute names I would give to each of them. Ha!ha!ha! I think I will have to ask my son who is very good in inventing funny but cute names for pets. I wonder though if I could memorize their individual names because they all look almost the same.



• Philippines
14 Sep 11
Hahaha.. That could be a tough challenge. It is hard to memorize their names if they all look like the same. You have to be detailed and find a least a standlike difference from them. But it could be fun seeing these pets and knowing all their names. Good luck. I hope by know you all know them =)

• United States
13 May 11
I breed fish and there are too many fish to remember each ones name plus they look too much alike to be able to tell each other apart. I mean right now my rainbow cichlids have spawned and there are about 200 to 300 fry swimming around. They are bout 2 to 3 cm long each right now.I have other fish that I hope to get to spawn soon so that would be even more confusion in naming each baby.

• Philippines
14 Sep 11
Wow. That is nice. Hope you breed more of those. And you are right, it is hard to name fish if they are of the same kind. You are able to indentify each of them with names, people might think that you are "special" so just leave it the way it is now. =)

• Australia
13 Apr 11
I think it's cute! And yes of course i named my fish, all pets should have names. I suppose it also depends on how many you have and what breeds because some look so alike it would be challenging to give them all names. What was your pets name?

• Philippines
14 Sep 11
I agree. It would depend on how many do have in your tank and if it doesn't look the same. I oftentimes interchanged the names of my tiger fihes, but the fun part is i tried. And later on, I was able to find things to distinguish them from each other. It could either be a small spot, the tails,size and other things. I named a lot of them

• Latvia
18 Mar 11
I give all my pets names. Now I have just one cat - Munchausen. But when I lived in the countryside, names I was give all rabbits and chickens. Animals treated as family members, not just for animals.

I love my cat and wen I am in work or visit (for several days) me he was greatly missed!

My big cat - so cute and frienly!