What is the best place for a wedding reception?

Philippines
4 responses

• India
23 Mar 11
Hi friend,This is my 100th post.I think ideal wedding reception should be at big hall so that all friends and relatives can enjoy themselves.And ideal age when you settle down in life that means you should have any permanent earning source,you should have own or rented house and some savings for any difficulties.I think any average person can easily gain all these upto age of 25 to 28.So this is ideal age of getting married. Happy mylotting.

• Philippines
24 Mar 11
Yeah in summary, you need to establish an earning to built a family. Well that is good anyway, facing money problems are probably the most common problems of the newly weds.

•
21 Mar 11
the right place depends on the people getting married. we had our wedding reception in an orchard, where most of our guests camped there, and it was a bit like a small music festival. the right age is when you are in a stable relationship with someone you want to spend the rest of your life with, and have a realistic perspective on how likely that is. it's probably best to be at least 25 or so, to have some life experience of ups and downs you have experienced together.

• Philippines
21 Mar 11
Oh thank you for responding. You are right, it is up to everyone. It depend upon a person how she or he can handle things beyond his control.

• Philippines
9 Aug 11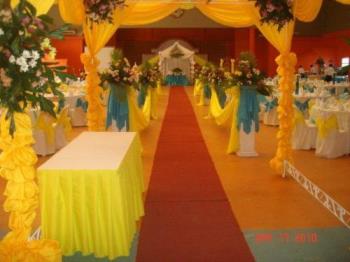 Actually you alone knows which place would suit your taste. Others prefer it on a garden, others in a restaurant, others at home, others in 5-star hotel or any other place of their dream. But as for me I prefer a covered and fully-air conditioned place. It does not need to be a 5 star hotel but for as long as it can accommodate all the guests comfortably, and the tables and chairs and the whole place are dressed and decorated in accordance with the color motif then that is already fine with me. I don't like open spaces like gardens because flies will surely fly over the food and that is really disgusting.


• Philippines
23 Mar 11
Mid-twenties to early 30's is an ideal age to get married. As long as both parties are stable in all aspects of their lives then they are good to go. The best place for a wedding reception would definitely the hotels since it could cater the guests in the best way possible with accommodation and with great cuisine. Also, most hotels have bigger ballroom areas that are really designed for wedding receptions and most important things necessary for smooth transitions of the program are already present in most hotels.