Sister's Message Makes Me Cry

Philippines
March 24, 2011 1:03am CST
Hi Mylotters, I am really emotional one when it comes to my family just this morning i received a sms message from my sister saying " Hon thank you for all the love and support you gave to me I LOVE YOU HONEY i owe you a lot maybe Yuro can be the payment hahahaha!"

this message made my tears fall and bring smile to my lips. She is the only sibling i have and she is so precious to me this message is unsual though she never fail to say thank you everytime i've done something for her. She is not a showy person but she really appreciate all the things, she knows when to say thank you and when to show her tantrums thats what i love about her.

I am lucky to she is my sister and i love her so much despite of having misunderstanding sometimes. happy mylotting everyone

9 responses

• Philippines
30 Mar 11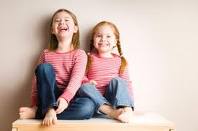 Hello Catch

, That's good to know, it seemed really hard for a sibling to appreciate the Love and care and it takes guts too. some times, my brother would thank me for helping him and also letting me know that it's hard to be with out my help but there are times that i think he's abusing it too much so i tend to stay away sometimes.

our siblings gap is every 5 years but in the end am glad i end up with some what mature and understanding brothers

. they don't give me problems and all.

• Philippines
1 Apr 11
hello LK, We grew up not saying I love you or sorry to each other but the love is there we are not verbally sweet, well i think some older sibling are abusing the younger one

. I just love her so much and i let her do whatever she wants as long as she will not get hurt it will be fine thanks for the response have a nice weekend


• Australia
25 Mar 11
The bond between sisters is a very strong one. I love my sister so much. I've not seen her for three years now and she cannot come to me yet because she is studying. I've promised her when she comes here in Australia to stay with me, i'll finance her studies and never let her go. I am very much looking forward for that day. God Bless!

• Philippines
25 Mar 11
hello sweetme, It is really different to have a bonding with a sister you can do everything, hope you and your sister will be together soon.

thanks for the response

happy mylotting


• Australia
24 Mar 11
I think that is lovely, she is showing how much you mean to her, so few people show this now a days...so many people take so much for granted that I think it is so sad...Your sister sounds like a lovely person, treasure her...

• Philippines
24 Mar 11
hello lilaclady, Yah she is thats why i love her she is the only sibling i had

thanks for the response much appreciated happy mylotting


• Philippines
24 Mar 11
And you the
overacting
one (hahahaha) That's what sister's are for. Still i believed that blood is thicker than water. No matter what are the differences between siblings from each other ,which is normal (no two individual person are perfectly alike/the same..not even identical twins when it comes to behaviour/character /attitude)siblings,still are siblings. I know she loves you on her own way. I just hope emo will soon changed...he's making me insane now

Can you adopt your bf,i want to disappear for a moment


• Lapu-Lapu City, Philippines
24 Mar 11
are you two in EMO mode?


• Philippines
24 Mar 11
@
jaiho, Yes i am overavting but this is unsual that's why for past 2 days she keep on saying Iloveyou and thank you with the same message i know she loves me. Give the Emo a time to change and be matured, about BF come one you really want me to be an old maiden




• Australia
3 Apr 11
That is so sweet. I wish my sisters would tell me things like that. Perhaps I will tell them that I love them just because. You are very lucky to have a sister who can express her feelings so well, and she is very lucky to have you as a sister, always looking out for her.

• Philippines
4 Apr 11
hello annapplez, Yeah we are both lucky to have each other

you can tell sweet words to your sisters too even they will not said it back at least you tell them how much you love them. thanks for the response happy mylotting



• Philippines
26 Mar 11
yes i agree with you we are more emotional one than you guys

but sibling will always be a sibling even they will have their own family. thanks for participating have a nice day!


• China
25 Mar 11
it's natural because you two have genetic connection.I am so happy for you that you can get along well with each other, you two are both very lucky. I have a younger brother, when i was in high school, we often fighted with each other, now it's ok, but not as good as you and your sister. After i say your words, i decide to be more care of him, and get very well with each other.Thank you!

• Philippines
25 Mar 11
hello janexiao, Having a sibling is really a different it added something in your life not just a sibling but a friend also hope you and your brother will get along with each other because we never know what will happen next. thanks for the response

happy mylotting


• United States
24 Mar 11
That is a very sweet thing to say about your sister. I have two sisters and one is just the sweetest you want to know.

• Philippines
24 Mar 11
hello gifts, Yes i would like to hear it

She is only sister i have that's why thanks for your response much appreciated happy mylotting


• Philippines
24 Mar 11
Hello Bhaby

, It's so sad though my siblings wasn't that showy, but i don't give a damn about it anymore. though i appreciate an apology from them for getting married so early making me and mom had more complicated situation. when were supposed to be earning we end up paying their "bills" and other "expenses." but at least they aren't much of whining on me now because they can't do that.


• Philippines
24 Mar 11
hi LK, Nice to see you here that's why i don't want to by pass my sister because i don't want to pay any single penny with her

. thanks for the response