locked out!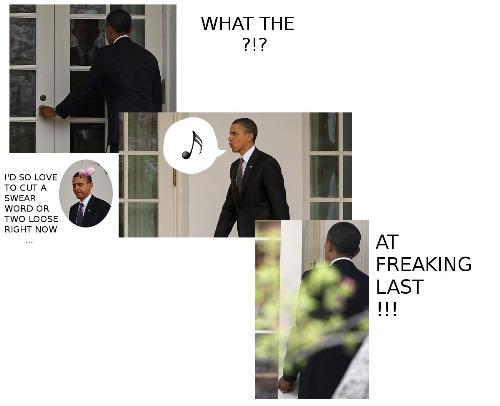 United States
March 25, 2011 1:15am CST
US President Barack Obama was locked out of his Whitehouse by staff who were not told he was not returning home at a certain time. What was funny was the whole bit was caught on the ever watching eye of the camera. The cameras show us Obama fruitlessly twisting at one knob that wouldn't open at his command before he had to walk away in search of another. The expressions on the Potus' face are just priceless as they are universal, and while it is just slightly cruel to laugh at another's expense, a giggle during these grim times of quake and war are just so badly needed. Besides, a door eventually would and did open at his command.
7 responses

• Philippines
25 Mar 11
The frist thing I though of was someone's gonna be fired! Then again, it would just be used as fodder by the media again. it really is difficult to live a normal life if you are famous person. Moreso when you are a powerful one like Barrack Obama. Difficult to find peace and comfort, even when you are just trying to enter your house it is a public matter!


• United States
25 Mar 11
I know, and there are more cameras than bushes in Washington. Even the voles couldn't get any peace to cross from one bush to another at the Whitehouse. One furry gatecrasher found out the hard way and became front page news... http://blogs.reuters.com/frontrow/2010/05/21/white-house-spokesman-smells-a-rat-in-the-rose-garden/ No, that wasn't a rat, check the comments, that was a vole. That pic didn't show the furball.


• United States
27 Mar 11
Nah, wouldn't make too much of it. It was just a "you never know" moment that proved a bit of light relief for the country.

•
25 Mar 11
Well, everyone will have a bad day once in a while. It's would be funnier if he knocks and peeps at the window and yell at anyone inside to open the door for him.

• United States
27 Mar 11
There would have to been someone to yell AT. The Whitehouse is big enough to swallow a crowd alive and still leave rooms empty...

• United States
25 Mar 11

You think someone is trying to tell him something?


• United States
25 Mar 11
I find this amusing to say the least. I mean, how many times have normal every day people been locked out of their houses or even their cars? More times then we can care to remember, right? Well it turns out that the most powerful politician in the country is really not immune to this common every day occurrence. Really does bring him back down to earth, doesn't it? It is just one of those things that make you smile. It just proves that there is still some amusement left in this grim world. Therefore, Obama's misfortune is really something that is great. At least we know security is good enough in the White House. It would have to be when the President himself cannot get into his own house.

• United States
27 Mar 11
Life's little inconveniences can befall the greatest as well as the smallest. Obama certainly handled it gracefully as well. He didn't bang or openly curse at anyone or anything (a grace I would not have shared

, the air around me would have been decidedly blue). He simply sought out a door that hadn't been locked.


• United States
25 Mar 11
It was WHO it happened to that makes this little incident so funny. Obama's the most powerful man in the world in charge of "the nuclear football" bla bla bla but not immune to getting locked out of his house like the rest of us slobs.


• Philippines
25 Mar 11
The whole clip was on the news but I really thought it was something to keep our minds off the usual. Here's the president coming home, and he catches his house locked and secure. If not for the urgency of the things pending on his desk, I would think he must thank his staff for securing his home.


• Philippines
25 Mar 11
Yes, the least he could do is thank his staff for securing the house well. Hmm, i haven't seen that one. Was that last night? I went home late already so i wasn't able to see the news. But if it's just today, then i might be able to see it if i come home early, that is if my boss will not need my assistance after 6pm.


• United States
25 Mar 11
If your computers aren't blocked, you might want to take a gander over to YouTube. The video probably went viral by now...