What Gravy should U use for mashed potatoes?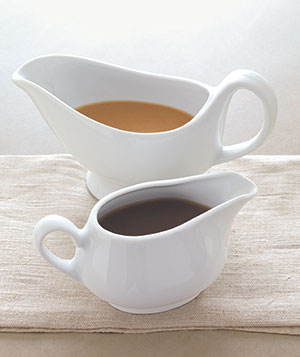 Australia
March 27, 2011 12:01am CST
Like the title, what Gravy should I use. There R many different gravy people add on mashed potatoes. They use the Beef one in Australia's KFC, and the Chicken one in China's KFC. I think both gravy taste, similar, Which one should I use if I wanted to make, er... a traditional one?
4 responses

• United States
27 Mar 11
To me I am kind of picky about using the gravy that goes with the meat we are eating. If we are eating chicken I want chicken gravy, beef I want beef, or maybe some mushroom gravy with beef. White gravy goes with both also. It just all depends what you are putting with it. I like KFC's gravy here in the US. I am pretty sure it's chicken flavored.


• Philippines
27 Mar 11
This is the first time that I knew about the gravy's flavor at KFC. I don't really know what's the gravy they're using here in the Philippines. But for me, I think beef would be nice, much tastier than chicken gravy. I just don't know what's the difference if I'll get the gravy from KFC.

• Australia
27 Mar 11
They told me in KFC, in Australian one. In China, the flavor of Gravy is actually part of the name of the food. I prefer the beef one. Thanks