Misbah-ul-haq and Umar Gul should give a man of the match from indian side..?

India
March 31, 2011 12:56am CST
Full credit should given to these two persons who helped a lot to indian team to achieve remarkable win over pakistan. In the time of bowling the umar gul given the full support to the indian team

and then in the time of batting misbah shockingly the way he played i appreciate his contribution towards indian team

. What you think behind this win over pakistan there is contribution of umar gul and misbah?
5 responses

• India
31 Mar 11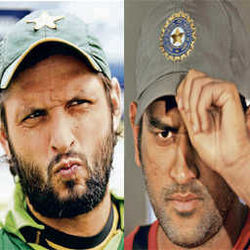 Definitely there were more than six chances given to Sachin Tendulkar. If he was out on the very first catch dropped by Pakistani players, we can imaging the position of India very well. Fielding was extremely poor, but it is well known that Pakistani fielding is not good. They were misfielding every now and then. Many extra runs were given. Pakistan would have win this match if their fielding was good and they have not dropped those four or five catches. Sachin was very lucky yesterday to have those chances. Yes, I think Misbah-Ul-Haz and Umar Gul should share a Man of the Match award from Indian side, at least from Indian fans. I am really very thankful to both of them for giving us a gift of victory over them.

• India
2 Apr 11
Ha, ha ha, that is funny dear friend, i too agree with you, it is misbah ul haq, who actually gives the indian bowlers a chance to bowl at him like a practice session.

• India
31 Mar 11
Yeah your comment on the Misbah and Gul is right but why don't we think in positive way. Execpt those catches droped by pakistani i don't think they did any gifting to INDIA. It was shewag who hit gul and not the gul who gifted sehwag those boundaries. About misbah he should have taken the catch of Tendulakar. He batted slow so to make sure he last long and hit at last. His thinking was surely good but other batsmen didn't remain with him so what would he do?

• Kolkata, India
31 Mar 11
absolutely siliguri.most of all i prefer misbah most.the way he batted without even trying to score kept the other batsman in pressure which led them take unnecessary risks and that resulted into their fall. misbah my man of the match

• India
31 Mar 11
Dear Siliguri, Yes I agree that Misbah did his part in India's victory. It was strange the way he played , keeping in mind the context of the game. Yes he did accelerate towards the end, but it was of no use, since he practically did nothing during the early part of his innings. He did not rotate the strike, did not take the batting power play when Afridi was there. In the end he left it too late... Umar Gul was taken apart by Sehwag earlier. And normally when a batsman like Sehwag treats a bowler like that, it hurts any bowler mentally.. But Pakistan did come back strongly after that. All in all it was an off day for Umar Gul. But Umar Gul had bowled well in this world cup till this match. I think it s unfair to criticize any bowler for one off day. But yes Misbah Ul Haq, Younis Khan and Mohammad Hafeez who threw his wicket away after playing well all contributed to India's win...!!!!. Pakistan's poor fielding and catching efforts did not help their course either...!!! Share your views... Balu