What would you charge for this quilt?

United States
March 31, 2011 10:02am CST
I am trying to make some extra cash now that hubby has been laid off. This is a quilt that I made as a gift but can and will make more of with what I have at home. It is crib size and machine done. It took about 10 hours from start to finish to make and has a very nice warm micro fleece backing. I am thinking maybe $50. Does this sound right? Would any of you pay that? Should it be more or less? I am also thinking of putting it up as a quilt I can personalize with a persons chosen colors...
4 responses

• United States
1 Apr 11
I left a comment in your photos. I think you're short-changing yourself at $50. It's
hand made
, for pity's sake! People are paying for the convenience of not making it themselves, for the sturdiness of the material (often ready-made items
are cheaper
, but not as well-made), plus your design work! Time, quality & convenience? Charge a bit more than $5 an hour, Lady;
respect
your worth!

Maggiepie "In art, economy is always beauty." ~ Henry James

• United States
1 Apr 11
Thank you! I know what I would like to charge but at the same time I need them to sell and with everyone being understandably cheap I am worried I would over price.

• United States
1 Apr 11
Thanks it looks very pretty. Handstiched quilts go for alot more here than machined sewned ones for do. Quilting by hand is almost a lost craft around here.

• United States
3 Apr 11
AUNTIE: Ah...make that "almost a lost craft" everywhere! But I suspect that, given the direction of our economy, that will change...by necessity. Maggiepie "Deep experience is never peaceful." ~ Henry James


• United States
1 Apr 11
I hope u do well w/your quilts & admire u for helping out any way u can. I would rather see them before i could say if i would pay that for them. It sounds reasonable for 10 hours of work.

• United States
1 Apr 11
It didn't post the first time not sure why but if you look at my answer for the first response you will see the one I am speaking about.


• United States
31 Mar 11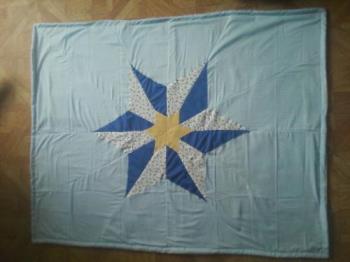 I have but they vary so much it is hard to figure what is fair. O saw some from $25 - $230 that's a huge range! I am posting the picture I hope with this comment since it did not come up with original post.

• Boise, Idaho
31 Mar 11
The quilt sounds nice. I think that the price you are asking is a good one. That means you would make be making $5 an hour for the work you did. Is that worth it to you? You could offer to personalize it. I would take best offer and see where that puts you for any others you might make. See what people are willing to pay that way.