Pulling Out My Hair!!! Need Help!!

United States
March 31, 2011 9:25pm CST
Calling all cat people!!! Some of you know I've had problems with my cat using the litterbox in the past, now it's gotten worse! We have three litterboxes in the house, 2 downstairs and 1 up in my bedroom. I have that one right by my bookshelf. There is only about 2 inches between them. Well last night my cat squeezed in between my bookshelf and the litterbox, and peed on the bottom shelf of my bookshelf!!! I was so mad! I was mostly mad because my cat knows how to use the litterbox, and she is quite able to!!! She NEVER poops outside the litterbox, she always gets that right. But she only SOMETIMES pee's in the litterbox. Most the time she pees right outside the litterbox, on my carpet!!!! And I can't always catch it right away, so it sits in my carpet and stains!! I have a ton of urine stains on my bedroom carpet that I try but can't get out! My carpet is pretty much shot now. Does anyone have any ideas at how I can get her to use the litterbox ALL the time instead of just SOMETIMES???/ I'm going away for a whole month this summer, and I can't bring her! If she has enough "accidents" while I'm gone my parents won't put up with it. And I'm worried when I get home from my trip, my cat won't be here any more...So I really need to train her before I leave!!! Please help!!! Thank you
10 responses

• United States
1 Apr 11
I use to have cats and I was told it is confusing for them to have more than more liter box. I just got tired of the mishaps and I trained my cats to use the toilet. It really was easy to do. Don't have a box down at all. You will have to find a round clear plastic that will fit on the toilet seat or over the toilet somehow. Then put a small amount of litter on the bottom of the plastic. Show your cat the area where you want her to go. The thing is your cat wants a clean place to go each time. When she goes each time make sure you clean the small amount of litter. It should be just enough that you can see though it. Not enough to cover the bottom of the plastic. When you think she needs to go take her to the toilet until you notice she is going on her on. It took me about a week to get my two to start going.. You can even get them to flush the toilet too. After a few days start removing the litter. When you have no more litter then you are ready to remove the plastic completely. She will be able to balance herself on the toilet to go on her own. Or if you live in a home or a ground floor apartment you can train your cat to go outside. I have had them to this too. Good luck.


• United States
1 Apr 11
Aaawww poor baby, then going outside is sure not in question. Many times they won't go in one if it is not clean and a female is sometimes the most picky about this. I don't don't what it is with your kitty. Maybe you can pay a lot of attention and see what is going on when she doesn't go in the box. is there a reason she won't use it, or not a reason. Then go from there. I had one one time that if it had anything in it she would not use it, a picky little thing. But that's the way she way. I had to clean it after each use. I hope you figure it out.

• United States
1 Apr 11
Ok, ignore what I said about going outside, then.

• United States
4 Apr 11
Both cat boxes are kept very clean, so I don't think that is the issue. When I do catch her peeing outside the litter box I do see her stare at it before, sometimes she attempts to go into it, but she'll just come right back out and pee on the carptet! Grr. Thanks!


• United States
1 Apr 11
Somehow,your cat has decided that litter boxes are for poop only. Not sure why. That she squeezed between things and peed makes me ask this question. Do you have a hood on any of your litterboxes? Some cats poop fine out in the open, but want to pee in private (some want to do both in private, I have male cats, they don't seem to care). If you don't have any way for her to pee in private, that could be the problem and I would try a more private litter box. If you have a private litterbox and she still pees, all I can say is litter box attractant and some type of all natural deterant. So it's like the carrot and the stick. The litter box attractant is the carrot and the natural deterant is the stick. Too bad you don't live in the country. I threw Creamy out and made him watch Baby until he got the idea that you don't pee and poop in the house. Now he goes out to the trees and does his thing. Another possibility is that this cat likes the litter for poop, but not for pee. Don't ask me why. But some cats urinate in sand. They like sand. Some only poop in sand. Some are very picky about there they do what. Like my cat Baby pees in sandy areas, but he'll poop in dark dirt areas. If you've tried all of this, then I don't know. I'd talk to a vet or someone who runs a shelter to find out what to do.

• United States
4 Apr 11
Well that was the first time she squeezed in between something to pee. Usually she does it right out in the open, next to the litter box. So I'm not sure if it's the privacy thing, but I will try to find that lid that covers the litter box downstairs. It just really confuses and frustrates me that she will pee on the litter boxes, but only sometimes. I know when it's her who has gone in the box because she never buries her potty, so I know she pee's in both boxes. Thanks!!

• United States
5 Apr 11
Maybe she pees ON the box to tell the others this one is hers? Putting some of the pee in a box might give her the message. But sometimes she pees in both boxes you said. I don't know. Maybe she's just being a teenage brat. Like someone said, maybe punishment.


• United States
4 Apr 11
I have an idea but not sure it'll work though but it's certainly worth a try. What about getting a deeper box? That way if she stands while she pees, she'll hit the side of the box instead of outside the box. You could get a deep storage box and maybe have someone cut out the front entrance of it just enough for her to feel ok about getting inside of it but the rest of the walls of the box be like it is so your cat won't miss the box. It's an idea worth trying....

• United States
4 Apr 11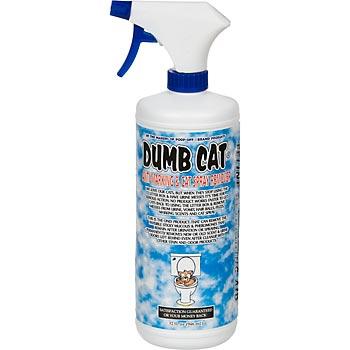 Try using this one product that we use which deters cats from using the same area again. It's called "Dumb Cat" and it comes in a variety of different uses so be sure to read which one you'll need. You can get it at Petsmart or Petco. We use the one that deters them from spraying again and it works like a charm! Also, look up cat urine on the internet and you should find some good ways in getting the smell out.

• United States
5 Apr 11
A deeper litter box wouldn't help me in this situation because she isn't inside the litter box and just peeing outside of it. She actually squats outside of it and pees purposefully on the carpet. I will look up the "dumb cat" product! Thanks for the suggestion!

• United States
5 Apr 11
Ok, well, I've been doing some searching on the internet for you and here's one good site that seems to know what they're talking about. The only thing I disagree with is changing the litter so often because if you're using clumping litter, you don't change and clean it but once a month however, it has to be scooped out at least twice a day every day. I was having problems with some of my cats and had to change the type of cat litter to a thin grain like which is Fresh Step. Since I've changed the litter, I haven't had any problems (knock on wood!) http://cats.about.com/cs/litterboxproblems/a/urinewoes_4.htm This site is about how cats can get anxiety and how to get medication for your cat from the vet. It could be the cause of her not using the litter box. http://www.ehow.com/way_5142444_anxiety-medication-cats.html


• United States
9 Apr 11
She has peed outside our downstairs litterbox too. That oen is in our laundry room, if she doesn't pee by that box, sometimes she'll pee somewhere else in the laundry room. But I think my room (and carpet) gets the brunt of it.

• Gold Coast, Australia
1 Apr 11
Yes, I have found over the last year since we got two cats, that cats have this rebellious streak in them that says "I know you don't like what I am about to do, but I am going to do it anyway as I am a cat and I do what I want, went I want!"

Our cats, or at least one of them more than the other, has completely ruined our lounge room carpet and it needs replacing now. This is going to cost us around $500 for the cheapest carpet that we can get for the room. Once the smell of their urine gets into something, then they like to repeatedly go back to that area. The smell can be very hard to get rid of, but using vinegar can help or their are some products at pet shops too that are designed to stop them peeing in areas. We have no choice but to replace our carpet as we tried getting the smell out, but it was no good. Plus they dug holes in it attempting to "bury" their pee in the carpet!


• United States
4 Apr 11
Yeah I've tried using vinegar, baking soda, and urine products to get the stains and smells out of my carpet, no luck! Grr!! She has 3-4 different spots in my room (about the 4 corners) that she pee's in. It's so frustrating!!!

• Gold Coast, Australia
4 Apr 11
Friends of mine recently had to replace their whole carpeted area due to the cats peeing in the corners. It cost them about $1500 to replace it. Once the smell went from the room, their cats did not go back to those corners, but they did put down cardboard in the corners for the first few weeks just in case. I am sure the cats are still going in our corners as well, because some days the smell is worse than at other times.


• Australia
1 Apr 11
One of my cats was like this a little...it turned out that she liked her privacy when going to the toilet...I ended up spending a bit more money & buying one of those litter trays that has a roof - kinda looks like a plastic carry box without the cage door. If you can afford to buy one, I would give this a try. Other than that, you could try spraying catnip around although one of my cats absolutely loved the stuff! Good luck.

• United States
1 Apr 11
At one point we did have a lid for our downstairs litter box...don't know what happened to it, I'll have to look into that! lol And while the privacy thing makes sense to me...the thing with my cat is she doesn't always squeeze into hidden areas to pee. Sometimes she'll pee on my carpet right out in the open. But I'm still going to try and track down that litter box cover and try that approach! Thanks!


• United States
1 Apr 11
I just read this after I wrote mine. So my top suggestion was given before. I had some to follow.

• Australia
3 Apr 11
Banjo won't use the littler at all, I have to let him go outside at night. Have you tried different types of litter? I've tried many different types but not the really expensive stuff...I refuse to pay those kind of dollars for my cat to take a dump.!


• United States
4 Apr 11
I am not in charge of the kind of litter we buy, but we do use a couple different litters, and it's the same result for both. My cat does not go outside, she's afraid of the outdoors.

• United States
2 Apr 11
Cats are Attracted to a Smell and You need to Clean that Area of the Carpet and Wall Quite Well the Cat Likes to Urinate On. Put Down a Smell Unattractive to a Cats Nose. Get Her Checked Out by a Vet if She Keeps on having Pee Accidents all the Time. Don't Yell and Use a Sound or Noise When She is Bad. Walk Away and don't Pet Her until She Knows She was Bad after an Accident. She needs to Connect the the Naughty Business Done and not being Petted and Played with. Maybe Change the Diet if She Drinks more than Usual and Ask Your Vet.

• United States
4 Apr 11
She doesn't drink more than usual, and in all her vet checkups I'm told she's fine! So I don't think it's a health reason. What kind of unattractive smell can I put down? I have tried to clean the area very well around the litter box, but it is so stained it's impossible! Thanks!

• United States
1 Apr 11
You also may want to take her to the vet. Sometimes cats pee around the house when something is wrong with them and they are trying to get your attention (like a UTI). Cats hate going to the bathroom and not being able to cover it up so as long as a litter box is clean, she should be going in there. If no one else's ideas work, you may want to have her checked out..

• United States
4 Apr 11
She always gets a clean bill of health from the vet, we take her everytime she is due for a checkup. The litter box is kept clean, so that isn't the issue. And my cat hasn't quite mastered covering up her potty, she never does it! hehe Thanks!

• United States
1 Apr 11
Well I had a similar issue with my cat.He knew that peeing outside the litter box was bad and would be defiant so I would punish him by putting him in the carrier. He would behave after a hour in there.So maybe you can kinda punish your cat. Um maybe you can keep your cat in the bathroom only until he or she learns how to behave.

• United States
1 Apr 11
Well, the only bathroom that I could keep her in is the one I share with my sister, and it is small. My mother won't let me lock her in any of the bigger bathrooms. I do lock my cat in my bathroom at night with the litterbox if I catch her peeing somewhere she shouldn't. But the problem with that is the bathroom connects mine and my sisters room, so when I lock her in there at night she cries and pulls at the bottom of the doors....it keeps me up, and sometimes my sister.