Entrance Exams are Necessary for all streams or not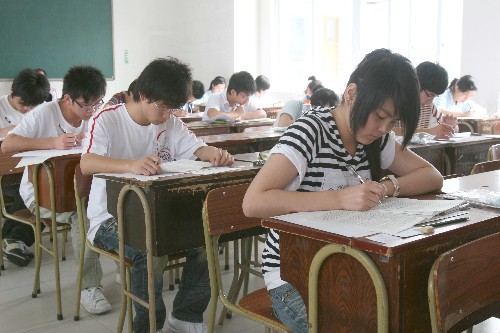 India
April 1, 2011 11:04am CST
I think entrance exams are not required or are necessary for all streams. It should be necessary in particular streams. Some of the important entrance exams in India are IIT-JEE Indian Institute of Technology - Joint Entrance Exam PMT is the short form for pre-medical test conducted by CBSE for filling various states colleges' seats in medical and dental streams. Eligibility- 12th pass or appearing. AIIMS The most coveted entrance exam in the field of medicine is conducted by all India institutes of medical sciences, New Delhi once in a year for admission to the AIIMS. Eligibility- 12th pass or appearing. PET is the short form for pre-Engineering Test AIEEE is the short name for all India engineering entrance examination, CAT stands for common admission test and is conducted by the Indian institute of Management forum for students wanting to plunge on the likes of the famed, Indian institute of Management. In your country for all streams Entrance Exams are necessary or only for selected streams or no entrance exams are there share your valuable knowledge.
5 responses

• United States
1 Apr 11
Hi surekharathi,

Here in the US we do take college entrance exams. It gives us and the college as to what level of education (smartness) a student is at. Some of the tests that I under gone are 1. ACT - American College Assessment Test (This is part of the Admission process) 2. AP - Advance Placement (This one I took in high school which allowed me to take college course while I was in high school. This also allowed me to go to a upper level high school because of my good grades). I also took the CLEP - College Level Examination Program - Which determined if I was allowed to get college credits while in high school. 3. SAT - Scholastic Assessment Test ( This one I also had to take which is a requirement for universities, which is also part of the admission process. 4. GRE - Graduate Record evaluation ( testing required so I could attend graduate school). There are several other but these are the ones I had to undergo and were requirements for me to attend the types of schools I did. Yes here it is required but again depending on which schools and or fields we study. For instance there are also other tests for students wanting to attend law school, medical schools etc etc., which are required. A student attending community college if I am not mistaken only takes the ACT and I think the SAT and I believe the ACT. ( not sure because I went directly to a University). But if the community college student goes on to Universities and or graduate schools then further testing is required.

• India
2 Apr 11
Once again I like your response so much so I rated you really I appreciate from your response. You are the first person who is responding my this discussion and in a good way I like it friend tell me if I rated you can see it.

• United States
2 Apr 11
When you rate a member we cannot see it only you can by seeing the (+) button now gone. Thank you surekharathi, I always enjoy your discussions because a lot of them seem to bring up a great deal of memories. As I was typing the above I was recalling the days I took each exam and how nervous I was but later to find I did well. So it was a great memory for me.

• India
2 Apr 11
Hello HWG, Good evening. There is no reservation in US, of any kind, in entrance exam, right?


• Costa Rica
2 Apr 11
Entrance exams are necesary sometimes in order to get the best among all the people aplying for a reduced number of seats in a class, specially in very specialized one, like an engineering, medical one, etc. Some other times, is merely a way to gain prestige, since excluding other people seems to be a easy way to do so, in many areas of life.

• India
2 Apr 11
Yes entrance exam is necessary for engineering and medical and D.Ed and B.Ed field thanks for response

• India
2 Apr 11
Hi surekhaji, entrance exams are necessary for a person to take a course , since it decides that the person is eligible to take up the course or not.

• India
2 Apr 11
Yes this exam is held for checking the ability of a students for any course. Thanks to response.

• India
2 Apr 11
Hello Ms. Rathi, Good morning. I think, entrance exams are good in order to separate serious and deserving candidates from those who are just taking entrance exams as their parents have said so. Entrance exam are good, because we need good doctors, engineers, etc. If there are no entrance exam anyone will get enrolled in those courses and will become doctor or engineer. I am in favor of entrance exam, but I hate reservation in our country. A person with 45% in 12th class is selected to become a doctor due to reservation, and at the same time a person with 85% is not selected because he is in general category. Reservation in entrance exam is very bad and due to this reservation real good students are not getting chance to learn and become successful in life. They get depression and other mental problems. In Kota, Rajasthan, students are preparing for four years to get selected. They are extremely good, but due to reservation they are not getting selected in entrance exams. This is very bad aspect of entrance exams. In Gujrat, there is no entrance exams and students get admission in MBBS or BE based on their percentage in 12th class. This is very good as only good candidate get chance in this way. I personally tried for two years to clear PMT, but being in general category I was not selected. My classmates who were not very good in studies were selected as they were in reserved class. So, entrance exam is good, but not the reservation.

• India
2 Apr 11
Yes sir I also hate reservation due to this reservation some times loss of intelligent students so I also hate it. Good information is provided for me because I dont know in Gujrat no entrance exam is there in Maharashtra lot of entrance exams are here. Thanks once again a good response.

• India
3 Apr 11
Well Surekha, i have taught in colleges for more than 44 years, i am associated with engg and medical entrance exams, various other all india competitive exams over past several years, even this year, but from next year i will quit all becoz of health issues.. In my opinion there should be entraance exams for ALL exams to screen out dull students, some join college for fun, some are backed by local politicians.. Thanks for sharing in details Cheers. God bless you, have a nice day ahead.
Professor 'Bhuwan'.
.