The stink bugs are back!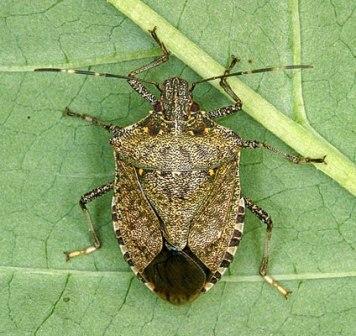 United States
April 4, 2011 9:54pm CST
I just saw the first stink bug of the season in my kitchen ewww! I hate these things. They are invading the Mid-Atlantic area where I live. They are not native to the area they came from Asia in some shipping container several years ago and now they are spreading over several states. It's name is the brown marmorated stink bug. They are a real nuisance and they are causing lots of damage to crops. It was really nice today in the 70's. I love warm weather but I hate it because now the bugs are coming out.
3 responses

• United States
5 Apr 11
OH MY GOODNESS!!! There have been some of these bugs on my patio and in my apartment. My mother told me they were "aphids" but when I saw your topic, I saw that picture and that is the bug!! I can't wait to tell her! She was letting one of them crawl on her hand! LOL Well, I dont really love bugs either, but I never want to kill them, I usually try to just let them outside, but it is a shame that so many crops are suffering. Thanks for this topic and the pic. Vaya con dios, Acongojada

• United States
12 Apr 11
I forgot to ask, Why do they call these thing 'stink" bugs? Do they really stink? I guess next time I see one I will have to smell it...lol


• United States
5 Apr 11
We too are in the mid-atlantic area and the damn stink bugs never went away. We keep finding them hidden in the curtains or under the fire wood. They where everywhere in the fall and they are awful. Eating holes in everything! Blah.

• United States
5 Apr 11
Ewww. Yuck. Last year I remember drying some clothes in the dryer after I hung them outside. I shook the clothes off like I always do and didn't see any bugs or so I thought but then my mother said I should put them in the dryer. After I took them out there was about six of them in the lint trap. I didn't see them on the clothes before I put them in the dryer but sure enough they were there. Now that I remember I saw one a few weeks ago by the fire place.

• United States
5 Apr 11
lol that is funny! I know the stick bugs where everywhere. At one point we had, in the fall, a warm spot on our brick house form the sun. The I walked out to go to my garden early one morning and the spot was covered in stink bugs. It probably wasn't hundreds but it looked like it.

• United States
17 Apr 11
We have 'love bugs' down here in Florida and when we first see them (in the summer) they come in swarms and are VERY harmful (acidic) to your car. It is one of those wash your car several times a week things when they are out. They are called love bugs because they are ALWAYS seen in pairs (apparently mating). Thanks

Zelo