If You're Familiar With The Argentine Dogo...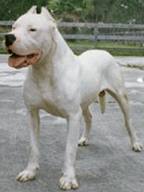 United States
April 6, 2011 6:55pm CST
I was reading a news item about an Argentine Dogo attacking a dog on the streets of California. When a cop tried to separate them, the Dogo attacked the police officer & the officer shot him in the head. At that point the dog ran into a nearby home where there was a drug operation going on. I had never heard of an Argentine Dogo so I go to Google & look it up. The dog favors a Pit Bull & the police are trying to equate the two. Having owned a Doberman Pinscher back when they were the most feared dog in the world & knowing what a sweet dog it was, I would like to know...what has been your experiences with an Argentine Dogo???
1 response

•
7 Apr 11
I live in a country where it is illegal to own a Pit Bull and no doubt the Argentinian Dogo is too. I have never heard of it before LadyM. Dogs are animals and we never know exactly how they will respond to a situation. I knew a pub dog that bar side would tear a stranger's arm off and customer side was the softest animal on earth! It is a matter of training. That said I believe that there is no reason to breed fighting dogs and those that do so should be prosecuted to the full extent of the law.

•
7 Apr 11
I'm fine. I miss not posting but it's not worth the angst to have the things that you post deleted. I am on my website and get the occasional myLotter stop by. But if course i can't pay so it's mostly a lonely activity. LOL. I agree about dog owners. But dogs are animals and sometimes they, like us, will go with their instincts with calamitous results.