Shop-alchol

United States
April 11, 2011 10:10am CST
Are you called a shop-alchol? I don't there is a word for it but I like to call it this way

I just realized that my husband think I am a shop alchol last night. I was telling him that people pursues different thing when we get older, for instance, I used to like to accessories that is not real like the diamond like crystal rings or bracelet but now I would only wear the real deal; I used to buy fake leather bag but now I want real leather bags. I don't mean I go after things that is necessarily expensive but the level of the stuff that I like has been changed. Hmmm I hope I have made it clear. So he thought I am a shop alchol so I explained to him that he is lucky I am not. What I think about a shop alchol is she would just shop and buy, doesn't care if she needs it or not; she buys no matter how much, doesn't care whether she is affordable or not and still go for shopping. Is that correct? So I'm not like that at all, I explained it to him but he still thinks I'm a hop alchol.

What do you think?
6 responses

• United States
11 Apr 11
It is SHOPAHOLIC lol :) Hmm well it sounds like you are just a smart shopper, your taste have changed but that is it. A shopaholic is how you described someone who just likes to shop and doesn't care of the price or even if they need it or can afford it.

• Philippines
12 Apr 11
I think you are not a shopaholic, according to what you have described yourself to be. just let ur husband think what he wants to think and if he is still not convinced of how u are continuously being a good shopper actually, then try to find a real shopaholic and try to tell ur husband how that certain person shops 4 stuff he or she doesn't need.

• United States
12 Apr 11
Shopaholic shops for things that is not necessary is true and she probably won't care about theprice.

• United States
12 Apr 11
I could never be a shopaholic because i don't like to shop, never have. I think if u buy better quality of things they last longer. Doesn't sound to me as if u have a problem w/shopping.

• Malaysia
12 Apr 11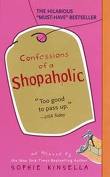 well depends , your need to ask yourself how many handbags your have, how many shoes your have, to your buy groceies to be wasted rotting in the freezes.Can your not go shopping and just prepare a shopping list to your hubby to buy the stuffs.Do this to prove your man your are not an shopaholic.I guess buying cheap stuffs and expensive stuffs is not the issues, as long it is long lasting.Some cheaper alternative is better and same as lasting.

• United States
12 Apr 11
I do have lots of clothes, bags and shoes but it doesn't mean that I am a shopaholic, you can ask randomly a woman, she would probably tells you she has a lot of shoes and bags as well but she is not a one either. I think shopaholic is an addict just like one of the mylotters said above, you just spend and spend and spend without even a thought of whether you need it or not.

• United States
12 Apr 11
I see we have convinced you that you are not a shop a holic. It seems as if you are learning to appreciate quality products and goods. If that is what you buy it will last a long time.

• United States
12 Apr 11
Right, I was talking to my mom about it and she asked me back that now I know why she wouldn't like it when I got her a crystal necklace when I first got my paid cheque.


• United States
11 Apr 11
I don't particularly like thrift shop but I did go in the one that is called Savers once and actually I found a pair of shoes was in good condition and bought it for 10 dollars which orginally should cost about 40 dollars for that brand.

• Philippines
11 Apr 11
hello ivy, I am not an impulsive buyer. I only shop and buy things that i need and not i want. I am a shoe addict,but doesn't mean that i would just jump on buying when i saw a pair of shoes that really made my eyes sparks. If i thought it's too much,mean,all my shoes are still usable...then,i will let it pass and maybe next time buy a new pair. Have a great day


• United States
11 Apr 11
I love shoes as well, when I'm shopping for shoes, sometimes I want the pair of shoes so bad but it is $$$$ so I just put it down.