Do you love watching anime's?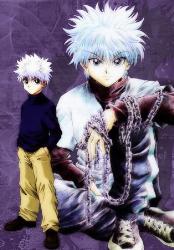 Philippines
November 19, 2006 11:34am CST
Even though I'm already a teenager, I still love watching anime's... I am also a member on different groups that are also anime lovers. Here are the top 5 anime's that I love. 1. HUNTER X HUNTER 2. INUYASHA 3. GHOST FIGHTER 4. NARUTO 5. GATE KEEPERS I usually first look on the graphics and animations... I want anime's who have a good visualization of characters... I also want characters who has interesting abilities and powers!! So what's your top 5 anime's?
8 responses

• Philippines
19 Nov 06
1. Hunter X Hunter 2. Getbackers 3. Naruto/Bleach 4. X 5. Last Exile - i love hunter x hunter, i hope you read 1-260 manga, and watched the Greed Island OVA... *oh yes i forgot my nen is overflowing here in mylot...

• Philippines
19 Nov 06
really? hey! im just a new member here. Is it ok if I am not a US resident? pls. help me learn more out here... tnx!



• United States
19 Nov 06
well you don't have to be a teenager or child to enjoy anime. i'm an adult and only started watching anime a few years ago. actually quite a bit of anime was made for adult viewers. I love Naruto too...i watch that with my children. I also like Bleach, InuYasha, Trinity Blood, Eureka Seven, Witch Hunter: Robin, Magical Shopping Arcade Abenobashi, FLCL, One Piece, Zatch Bell, my kids love Bobobo Bo bo..whatever, but they just think that show is too funny. But there's so many good anime out there. My mom laughed at me when i was watching an anime at her house saying 'you're still watching cartoons?' the basis is most anime in the storyline work like a regular tv drama. the way the storyline carries on over sevreal episodes. in normal cartoons there is a resolution to each episode, this keeps childrens attention...