Today I finished rearranging my indoor garden

Chile
April 16, 2011 9:35pm CST
I love plants inside and out. And I have a space under the stairs where I made a place to put some indoor plants. I started this proyect some years ago and it all went well for a while, but some of the plants died. So these last 2 months I have been buying plants (I buy them one by one so I won´t notice the price

) and finally today I could put them together. They look beautiful and I´m very happy. Do you have plants indoors? What kinds of plants do you have? Share!

11 responses

• United States
17 Apr 11
My plants have been indoors all winter and are just waiting to go out. I have a rubber tree, sanseveria, airplane plants, crotons, and many others. I bought a Norfolk pine for Christmas. They do so much better outside.

• Chile
17 Apr 11
In my country we keep those plants inside, but in a sunny place. They would dry out in Summer outside. The is a plant though (I have to learn it´s name) that hasn´t been doing well indoors. I will have to check.

• United States
17 Apr 11
I put them in the shade. What kind of plants do you have in your indoor garden?

• Chile
18 Apr 11
I just took a picture of them, Gertie, so I´ll make another post with the photo




• Chile
18 Apr 11
We don´t have orchids in my country as we don´t have the climate that suits them.


• Indonesia
17 Apr 11
hello Marguicha... yes i love indoor plants... infact, my house (actually my parents' house) has few gardens... 1 garden outside the house and 4 indoor gardens... (1 at the guest area, 1 beside the guest bedroom, 1 at the living room, another 1 beside the studyroom in masterbedroom area) with those 4 indoor gardens, it can help to circulate the fresh air... and we dont need to turn on the light cos the sunlight can easily come in too... :) but sorry i dont know what the name of the plants... good day :D

• Chile
17 Apr 11
It must be beautiful! You should take a picture and show us. You know that would also get you more money here

. And we would have the pleasure of seeing your garden.


• United States
17 Apr 11
I don't have a garden or anything planted. But I desperately want to! I have been yearning to do a bit of gardening for this year. We rent a house, and although our landlord probably wouldn't mind if I added to the landscape, I'm not sure if I want to invest money and time in planting flowers and such on someone else's property. I was thinking of maybe growing a very small veggie garden in the backyard. Maybe I'll just go through with that because we will be able to benefit from it by eating it. :)

• United States
17 Apr 11
I forgot to tell you about my indoor plants! Lol. I do have an aloe vera plant that I got when it was just two stalks, but now it is 6 stalks and a lot bigger. Also, my son and I recently bought a mini greenhouse kit and we planted some cherry tomatoes and zinnia flowers in it. They sprouted last week and are doing great. I'm going to have to replant them soon in individual pots before they get too big. :)

• Chile
17 Apr 11
I dont know prices where you live, but in my country seeds are fairly unexpensive. In order to have a small garden what you basically need here is work. It´s like earning online: I don´t invest but I work on my sites. For me, gardening is very good for my health. While I´m working at it, I can digest the problems I have and everything is easier later on.

• Philippines
2 May 11
hi, its so beautiful to have plants inside and outside of our house because it will give some and additional color in our house,i have many cactus as of now inside of my house.and why cactus?because they are not very greedy to water or no need to flow every day.

• Chile
2 May 11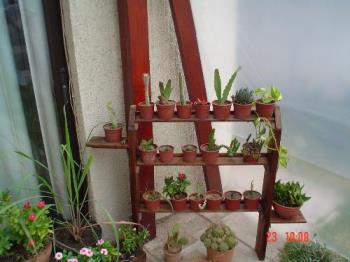 I love cactus and pride myself that I have never bought one. I make them from cuttings. I have small ones in my kitchen´s window sill and a lot of them everywhere outside as I don´t have the heart to throw away a "baby".

• Sweden
18 Apr 11
I have not so many plants as I used to before, but I´m happy owner of two avocado trees that seem to grow without much attention..I started them from the kernels from avocados I bought in a store..

I have a third avocado kernel in a cup with a little water in the bottom and I hope to be able to plant it when I see a root coming out. It takes a lot of time to make it grow this way and I have to watch that it doesn´t become dry, but when it has started and is in a pot with soil, it will grow with just a little water - sometimes I give them a little tea leaves as food.

Avocado trees have beautiful big green leaves, but I guess there will be no avocados growing there, so I have to buy them in the store as usual..


• Chile
2 May 11
Avocado trees are beautiful but they are giant if planted outaside. You can have an indoor plant for some time though. I suppose that they won´t grow very quickly in a pot. Your guess is right: you won´t get avocados from those trees. Besides, you have to have at least 2 big trees to have avocados.


• India
17 Apr 11
Hello Marguicha.... i love plants and the house i grew up in had a huge garden where we grew plants and trees. We had tamarind, Mango, neem, Papaya, custard apple and banana. We also had a vegetable plants like brinjal, ladyfinger, pumpkin, bitter-guard, ash-guard, runner beans etc My grandparents and a 'mali' (Gardner) maintained it. There so many flowering plants too though i don't remember all there names i know there were many types of roses, jasmine, and bougainvillea. In fact the bougainvillea were so huge once a wild bird had built its nest inside. As children it excited us so much i think we ended up breaking the nest because we had to go look at everyday! But unfortunately that was some years ago now we live in a house where we can have only a few potted plants and i try my best to maintain them as lovely as i can. :)

• Chile
18 Apr 11
Life has changed as people want to live nearer the places where they work. And the land in more expensive so noone has big gardens, except people that are rich.


•
17 Apr 11
I love plants also before when im still in school i plant some roses in my parents house. I really like rose its make me feel relax when i flowers bloom. Try to plant some roses and orchids it makes your place pleasant and fresh. I hope i have some place to plant some roses and orchids again..

• Chile
17 Apr 11
In my country orchids have to be imported, they cannot be grown here because of the climate. Where are you from? Welcome to mylot! Happy posting here!



• Chile
17 Apr 11
I always had a garden, even small ones. When we only rented and did not have a house of my own, I planted anyway. I love the contacyt with Mother Earth. It relaxes me. In my country houses are expensive too. It took us a lot of work for my husband and I to build this house.

• United States
17 Apr 11
I want to come over by you just so I can sit and admire your garden. I use to have 38 rose bushes, lots of zinnias and daisy and countless perennials. I now live in an apartment so no gardening for me anymore.

I truly miss it because I use to love to sit on my deck and simply look at them. Especially on stressful days. It was like therapy to release the stress.

• Philippines
18 Apr 11
I do love to have big garden that has many different kinds of plants and flowers but I am not good in maintaining the plants in good condition . that's why I don't usually give more time to them . but I do appreciate beautiful garden when I see one .