Is soccer suitable with normal women?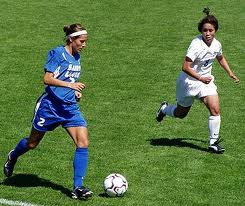 Vietnam
6 responses


• Vietnam
19 Apr 11
I'm believe that women can do what they want. However, normal women shouldn't play hard sports, they're maybe dangerous for them.


• Vietnam
19 Apr 11
I played it when I was a student. But I can play it now. Because my health is not enough with it. I think that swimming is more suitable with me than soccer.

• India
18 Apr 11
Believe me you do not need to be an "abnormal" woman to play the game. The game is played only by normal woman. Jokes apart, the biggest thing you need for Soccer is stamina and fitness. I think as long as you have it that is good enough. Cheers! Ram

• Vietnam
19 Apr 11
As me, women should play some light sports such as jog or swimming etc... in order that they can train their body. Soccer is quite hard!

• Indonesia
18 Apr 11
hy, i agree with you,soccer is the sport which is need the strenght of physical. and soccer is hardsports,with the injury can happened make you got a lot of pain,and even some man cant continue their carrer in soccer world because the fatal injury. i think tennis and swimming is good for normal woman

• Vietnam
19 Apr 11
I think so. Moreover soccer is very attractive. But normal women shouldn't play it. It needs for the women whom are trained. Normal women can swim to keep their body well.

• Philippines
21 Apr 11
It's actually quite interesting to see girls play soccer. During my high school days, soccer is only being played my boys. After I graduated from my school, I went back there to see girls already playing soccer! They also have a varsity team for girls! It is really fun to see all of them play. For me it is really okay for a girl to play soccer.

• Canada
19 Apr 11
Well, the way to become trained and healthy is...by playing! You start easy, not competitive, and as you get better you work your way up. You don't start by playing against the best players in the world. I know many normal women and girls who play soccer and love it. I played ice hockey as a child and teenager, and I played very competitively with body checking, just like men do. You play against other women, so you have no more chance of getting hurt than a man would playing the sport.