Spanish "El Clasico" x4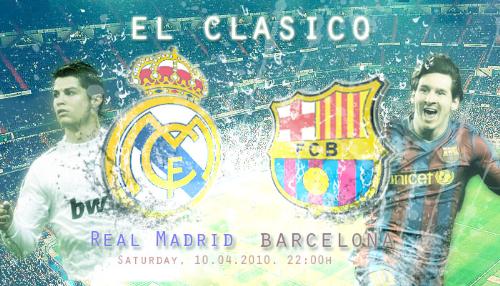 Romania
April 18, 2011 2:26am CST
I've started this discussion because this year we can see the classic of spanish football 4 times in 17 days, thing that maybe is unique in this decade or even century because the probability is very low. So, saturday was the second part of "El Clasico" in Primera Division and was concluded with a tie 1-1 with 2 goals scored from penalty by the top stars of every team Messi (53') and C. Ronaldo (82') after a very tensioned match. In 20th april we will admire these 2 incredible team again in the final of 'Copa del Rey' in Valencia and after 1 week will be the first leg in UEFA Champions League Semi-finals Real Madrid - Barcelona, a double that can illustrate the winner of this competition. What's your opinion about this double? Can Real beat the Guardiola's pass machine and in the same time let Mourinho to gain his 3rd trophy of Champions League with Real after Porto in 2003 and Inter in 2010?
6 responses


• United States
20 Apr 11
I hope Real Madrid win Copa Del Ray. For a big club like Real Madrid with no national cup for more than 18 years is a disaster! In addition, Iker Cassilas lack this achievement in his his collection. I hope Real's captin motivate the rest of the team to beat Barcelonal this time. Real Madrid 2 Baracelona 1.

• Indonesia
20 Apr 11
I prefer Madrid win Del Rey but for champions...I want Barca (or MU). But really this el clasico really draws people`s attention, even my dad, who rarely keeps update with soccer news ( he is only familiar with some names because they are often mention on the news, radio, like CR,Messi, Sir Alex, Mourinho)kept asking"When is Barca vs madrid?", my nephew is a little bit mixed up by saying that there will be all spanish final in champions league LOL.Well, hard to choose which one to win.. I like both of them, my nephew is Madrid`s fan. Hope the match will be entertaining..

• Bacau, Romania
18 Apr 11
I think we are truly spoilt this year for seeing 4 confrontations between the two giants of club football in such a short time.After seeing the first match,I think Barca is slightly favourite to reach the Champions League final,but it will be a very tough double and everything is possible;ifv there is a team in the entire world who can resist Barca and even beat it,that team can only Real Madrid and with KJose Mourinho at helm,Real can do it,or it can suffer another humiliating defeat like it happened in La Liga on Camp Nou.One thing is certain:we are truly lucky this year to see these amazing teams fight so many battles,so let's enjoy the shows!

• India
18 Apr 11
I just hope that we do not get an overdose of the El Classico. The first match ended in a 1-1 draw with both sides scoring a penalty each with Real ending with 10 players. I think Real has a chance to avenge the 5 straight losses they suffered at the hands of teams managed by Guardiola including the humiliating 5-0 by beating them in the Champions League and the Copa Del Rey. That would really even things a bit. Cheers! Ram

• India
18 Apr 11
I just hope that we do not get an overdose of the El Classico. The first match ended in a 1-1 draw with both sides scoring a penalty each with Real ending with 10 players. I think Real has a chance to avenge the 5 straight losses they suffered at the hands of teams managed by Guardiola including the humiliating 5-0 by beating them in the Champions League and the Copa Del Rey. That would really even things a bit. Cheers! Ram