Cat's Claimed My Sunbathing Blanket

Carlisle, England
April 19, 2011 7:23pm CST
Whilst at Mum's the plan was to try to find a deck-chair I could sit on outside, then I could bring it back to Carlisle and sit out in the yard as I'm determined to get more fresh air whilst the weather is warm. Anyway, that plan didn't work as I came home empty-handed. Also, I've not got round to visiting the local B&Q to see what's in there..so I had a dilemma. I had a few minutes to spare before undertaking a couple of tasks indoors so I wanted to sit outside as the sun was shining, yet again. What do I use? I asked myself, not for the first time. Eventually, I came up with an ingenious answer..the IN-LAWS' QUILT! Remember that? It's stuck in the airing-cupboard as neither bed is big enough for it to go on? I was thinking about selling it on eBay but nooo! Lying on it in the sunshine was my "new" idea and it was great. It's so large in fact that folding it over a few times makes it comfy to lie on, so I was a very happy sunbather indeed...

Until I had to bring it in. The cat was watching me from inside the house, up at the window. She wasn't impressed. I know what she was thinking. "Why is she sunbathing without ME on that cover?"

I came back in and explained that she COULD go on the cover but I was frightened she'd jump over the wall and disappear next door, which was the reason for me being on this cover all by myself. She had already been out earlier when I pegged the washing out. Anyway, to pacify her I placed the cover on the floor inside..and she promptly led down on it to prove a point! She's hardly moved off it since. It's now her new sleeping blanket.

This lovely weather is set to continue. I won't half feel guilty if I want to use the cover and the moggy is ensconsed on it! Do your cats claim blankets that are supposed to be for yourself?
5 responses

• United States
10 Jul 11
my cats claim everything.especially if it's new or just washed. we just got 2 memory foam type mattress pads,and..well,it is appearently moggy approved.all 6 will now not get off the bed.



• Gold Coast, Australia
20 Apr 11
You are a great story teller Jane!


Our cats claim anything that is new as something to lay on. Well one of them does anyway. The other is just a s%$t who will not come anywhere near us unless she is hungry!


• Carlisle, England
20 Apr 11
Thank you...and you're not so bad yourself my Aussie friend! It's amazing how two cats can be so unlike one another. Mum's cats are related (both friendly) but one is friendlier than the other. However, Soxx (the more timid one) actually let me pick her up last week. I was amazed and so chuffed!


• Gold Coast, Australia
20 Apr 11
It is amazing how different they are. One follows the humans everywhere and the other runs from us and has gotten so bad that she even attacks her sister for no reason now. I think she resents the fact that the other one gets along with us?

She is becoming that bad that we are thinking of getting rid of her.


• Enumclaw, Washington
20 Apr 11
Are you kidding?? I own absolutely NOTHING! It all belongs to THEM! They stare at me, as I walk by thinking- "look, the two legger wants to sit down, shall we let her? No, lets just stretch out longer and take up more space." I have 4 cats, and I have found they will go wherever I don't want them. One has decided she likes the top of a cabinet, where I have some pictures and figurines, or I should say HAD. She kicked them to the floor. That is her spot now. Another one, she likes the clean towels, not dirty ones. She used to sit on them when I left them in the basket too long before putting them away. Now she just waits until I'm busy and opens the cupboard door, removes one, drags it to an acceptable area and sleeps. The third one, when she is inside she wants out. When she is outside she wants in. She has found a way to get to my bedroom window, and scratch with her claws, a very irritatingly loud screeching noise, so we WONT ignore her. The last, he's like a teenager, I only see him when he wants to eat. I LOVE MY KITTIES!!!

• Carlisle, England
20 Apr 11
Deary me, you've got your work cut out with that little lot! We wouldn't have it any other way though, would we?


• United States
20 Apr 11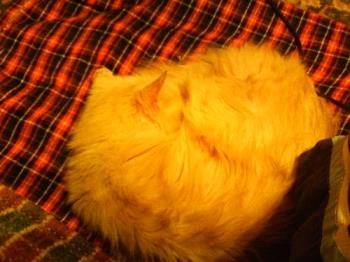 They do it every single time. If I fix something especially for them, it is never good enough. I do have a basket that I have lined with a cushion and rug. Tiger has finally discovered that it is really cozy. We are having mixed up weather. We are a little chilly right now. On one of the chilly nights last week I put a blanket on the floor and instantly, Creamery was there.

• Carlisle, England
20 Apr 11
Aww how adorable! Cats always find the warmest places to sleep and love the textures of blankets and furry covers. I managed to sit out on the blanket again today but had to watch Flojo like a hawk. It was nice spending more time outside with her, though.