Late spring start could mean late spring planting.

Canada
April 20, 2011 11:23am CST
We are usually able to start the planting on the May long weekend, but I wonder if that will happen this year, or if it will be later starting. The weather has been so bad lately that I haven't been able to work, the rain was supposed to stop this morning but it hasn't. I can't even clean up my own property with it continually raining, and the grass is almost ready to be cut. But I have no lawnmower, I borrow the one I use for work. But with the weather not co-operating, I can't even get a hold of it to use it. With vegetables needing more growing time than flowers, it's going to be hard to plant the garden if the weather continues the way it is. I had started vegetables inside last year, but I started them too early. It was a container garden since we didn't have a yard, but this year we do. And the groundhogs predicted an early spring, but I wonder if they're regretting their choice now. I'm hoping that in the coming weeks I can get out to get the garden prepared, and the yard cleaned up so I can at least start cutting the grass.
3 responses

• United States
20 Apr 11
You could send some rain to Kansas, the wheat farmers need it. We have had much less moisture than usual ever since October. We are ready for a second cut on our grass/weeds. I have put out peas, which go early, and I bought some decent sized tomatoes for a container garden. I have more that are started from seed but are still tiny. I am doing lots of containers, moreso than an actual garden, because no one wants to help weed, and the soil in the tubs is better. I hear my hubby mowing right now.

• Canada
20 Apr 11
When I did container gardening last summer it was ok, but I prefer a garden patch, which I finally have this year. I hope to grow a lot of veggies, it will be good for us. I have 2 sunflower plants that I started inside, one is leggy and I may have to let it die, but I'm hoping that the other one which is just starting to sprout will be better off.

• United States
20 Apr 11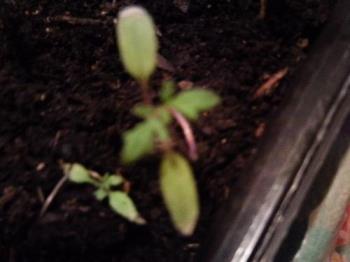 I had similar issues with my tomatoes I started.

• United States
21 Apr 11
If I didn't have hubby to till our garden I'd be in just containers too. No one really wants to help weed around here either just me, though hubby says it's "his" garden.

• United States
21 Apr 11
We've gotten all sorts of crazy weather here recently too! From sunshine, to snow, to rain to sleet and hail and this my friend has been all within a weeks time. I am just starting to sow things indoors now. I've started things too early indoors myself and ended up with plants ready to transplant before the danger of frost was over.

• Canada
21 Apr 11
It's always hard to determine the best time to transplant, but hopefully that will be soon. I've now found holes in the garden, possibly from moles, but I hope not. They're in the mint patch, and I might just fence that out of the garden. Not that it will work to keep the critters away, but I'll still try.

• United States
21 Apr 11
well you know I used to go by the package instructions as to when to plant seedlings some as early as march but our last frost is between Mother's day and Memorial Day to transplant them. This year I am just sowing things that are slow to grow like Milkweed and Okra. I have no experience with moles though I remember my Grandmother had a mole in her yard that lived on the side of her rabbit shed. I don't think I ever saw it just the hole. I imagine you'd have to do some research on the best way to get rid of them.

• Canada
21 Apr 11
its the end of April and its still snow flurrying around here. i know what you mean. we usually plant the long weekend of may (here in canada it is known as Victoria day - to celebrate Queen Vic's birthday when ou country was first founded) but who knows if it will warm up by then?