As a kid I simply loved Easter Saturday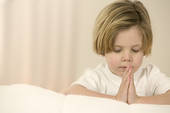 India
April 22, 2011 9:42pm CST
Our house was always full of prayers and devotion and daily mass was a ritual. The only day in the whole year when we did not have to go for mass and also there was no rosary recited at home was on Easter Saturday. A day we as kids looked forward to. As kids I don't think any one liked to pray. How about you. What were your thoughts as a kid on prayer?
3 responses

• Philippines
25 Apr 11
When I was a kid, I only looked forward to Christmas. I didn't even know that there was such a thing as a new Christmas. And this is called Easter. I was aware of the bloody penitents who flagellate themselves around the barrio and into the beach... I was fascinated by the practices and I would rather watch a drama about the passion in the town plaza than pray the rosary at home.... Only lately that my country started adapting Western practices. Believe it or not ut we have two Easter eggs in my refrigerator. And my niece has a rabbit for a stuffed toy. When I was little, I don;t think I really prayed. The formula prayers were always said but that was as far as I go where praying is concerned. I learned more about prayers as I grew up...

• India
25 Apr 11
I wonder why we are forced to pray. Prayer is after all a selfish approach for our own wellbeing but making it a ritual I now feel has more to it than meets the eye!


• Philippines
25 Apr 11
Hmmm, allknowing, prayer might seem a coercion but children, I believe, are natural prayerful creatures. They are actually the most sincere in uttering their desires and wishes. And prayers are not just for the self. Now that I am old, I find that it is more fulfilling if I pray for the welfare of others. More often than not, I forget praying for myself.

The rituals are necessary because we live with others in a community and we have to show our gratitude to the Almighty. I always think that God loves it when we are flashy with our expressions of love to Him.


• India
26 Apr 11
You have a point there about God wanting praise but this fact was never brought to our attention when we were kids. Even the Lord's prayer, praises God. With this knowledge one needs to look at the whole scenario in a different light. We as human beings are told not to blow our trumpet nor expect praise. I as an adult have become aware of this and do praise Him every moment of the day. Prescribed prayers is not my cup of tea.

• United States
23 Apr 11
You grew up in a much more devout religion than even the Catholic people that I know in the United States. No, children do not like any kind of discipline, and especially not praying.

• India
23 Apr 11
This over dose of religion has made me dislike it even now and I do not believe in rituals but am spiritual and forever in the attitude of gratitude.

• United States
23 Apr 11
Religion is man's attempt to reach God, faith is when God steps into man's life.

• India
24 Apr 11
Interesting score GG - you are on 30041 and I on 3041

And talking about religion both me and my husband were liberated from these rituals a long time ago but I do believe in God and abide by rules and regulations.

•
25 Apr 11
my brothers and sisters were raised non religiously. we knew about jesus etc via school religious education but we gave it no further thought. as a kid i found religion boring but understood the meaning of christmas and easter etc, unlike many of todays kids. my mother and father were teachers and my mother was born and bred at Ibrox in Glasgow. this is a strongly sectarian area of Scotland and when she moved to the island we were born in she avoided religion in our lives as she had seen the negative side of it. This is a sad issue which still privales to this day within the west coast of scotland, to my eterenal shame.

• India
25 Apr 11
You have not lost much. As long as you follow the ten commandments rest is ritualistic which even I abhor. I am a liberated individual despite the kind of upbringing I received. My father was not religious but my mother was and she ruled the roost so to say. Easter Saturday is a day where there is no service in churches and even in homes there are no prayers and that is what made it so special and enjoyable!

I hope God is not listening.