Why do accidents happen?

Philippines
April 27, 2011 11:17pm CST
Hello myLotters! I know that accidents are a part of life. But doesn't it sadden you that a good life can be taken by an accident? What if you were on board a train, on your way to the job of your dreams, only to die in a train crash? Why would God do that to good people? Wouldn't it be nice if accidents happened only to bad people? I know that life is unfair, but this is becoming too unfair. What's the reason of this? And how do we live after the consequences? Tell me your thoughts! Good day! :)
6 responses


• Philippines
29 Apr 11
thanks for this! It's was well put using so little words! :)

• Malaysia
29 Apr 11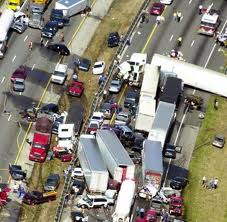 It hard to judge who is bad and whos is good.Because no one can fathom the consequence of our actions in the future.Our actions cause a series of reaction and responds in the future and who know the future. Accidents happen when careless people are involved even sometime u r careful but your neighbours or stranger comes along and wreck your day.Which is common.Accidents happen to the clumsly and careless causing innocent people to suffer

• Philippines
29 Apr 11
hi kukueye! yes, sometimes accidents are caused by careless people, but we mustn't also forget that there are accidents caused by natural forces. Like storms, earthquakes and such. it makes one think doesn't it?

• Philippines
28 Apr 11
Every human has its own character and design to experience accidents it is meant to happen.

• Philippines
28 Apr 11
Accidents mostly happens because of some faulty mechanisms but mostly because of carelessness. Although, even if you were the most careful driver in the world, if the one driving the car that hit your car is careless, then accidents will really happen.

• India
28 Apr 11
This is one of those improbable on which no matter how long you ponder upon and from which ever angle then only conclusion that u will arrive on is ... they just happen. I am not that much in to God and all so can't think of any other explanation.

• Philippines
28 Apr 11
I don't think there's a deeper meaning why accidents happen. It merely occurs because of carelessness, that's it. Some look at them as though they're divine, or like there's a hiddent message behind them when they're really what they seem, a product of carelessness.