T-shirts with quotes

India
April 28, 2011 12:34pm CST
T-shirts with quotes is a common thing that we see in our daily life right. so i saw a T-shirt today where it said-- 'My girlfriend says that i need to be more affectionate..So now i've got two girlfriends' Im not sure what kinda style this represents but hey its fun right! also pretty attractive too, i personally can stare at your t-shirt till i get the sayings right, if there is any off-course. So do you have any T-shirt with a funny/crazy/attractive saying? or if you would like to get one what would be your personal quote. share with us.
4 responses

•
29 Apr 11
yes, here in our country.. its a common business!.making shirts out of the mind..and its quite so cte,attractice and clever one!.my boyfriend would wear " TOUGH GUYS WEAR PINK" or " MY GIRLFRIEND IS MY WIFE". and its kinda cute and sweet. :)

• India
30 Apr 11
haha Tough guys wear pink huh! and my girlfriend is my wife is kinda cute :P

• Philippines
23 Sep 11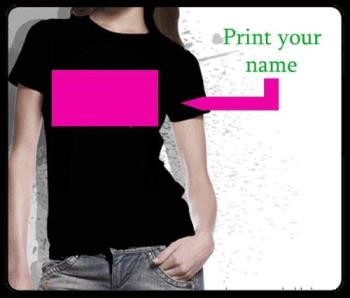 T-shirts with quotes could be really funny at times. I've seen so many quotes in T-Shirts that make me really laugh. But although I laugh at those quotes, I am not really one who would wear T-shirts with quotes. I don't want to catch attention of people whenever I'm on the road so I avoid wearing shirts with any writing. I also don't wanna wear personalized T-Shirts. When you have your name on your shirt, some naughty folks will make a joke on you and keep calling your name and it is somewhat distracting to me.


• India
4 Nov 11
Haha, Its not the personalizes tees that would grab attention! It matters how you are wearing it! So if you wear it good you gonna get attention anyways! anyways thanks for sharing.

• Philippines
29 Apr 11
I have seen a lot of t-shirts like that. I also saw some couples wearing couple-personalized t-shirts and they really look so cute. I read a quote one time and I find it sweet but funny. " Hey, did you fart? Coz you blew me away!".. lol.. I had a god laugh at it actually

•
28 Apr 11
I have only one t-shirt in this style. I'm wearing it right now - I got it from ThinkGeek years ago - it's designed like the green data-flow of the Matrix films (though it's in blues) and has the ASCII codes for "You are dumb" merged in with the design. And yes, people have asked me what it says... and yes, I've told them...

There are some absolutely brilliant designs like these around. Some of them require quite a lot of courage to wear, though...