Ticks everywhere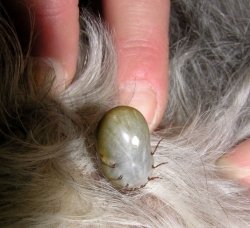 Czech Republic
April 29, 2011 2:34pm CST
I removed 3 ticks from my dog in last 2 days. I'm worried she has more of them that I couldn't find. Normally she caches like one per year and she was walking daily in the woods and now we moved to urban area and we find 3 in 2 days omg. I'm gonna get some protection for her tomorrow. Also I was just researching about how to remove ticks and they say don't twist them but pull them straight up. I remember before everyone was telling me to twist them in counter clock motion.
5 responses

• United States
29 Apr 11
There are different kinds of ticks. The big "sheep ticks" that are found in the Scottish highlands are easily removed by giving them a dab with a cotton wool ball soaked in Whiskey. The tick just pulls out and drops off by itself. The only problem was that my dog didn't like the smell of Whiskey and ran off before I could apply it most times.

• Czech Republic
29 Apr 11
The ones that my dog caught looked the same as on the picture I added to discussion.

• Calgary, Alberta
30 Apr 11
When my dog is still alive I used outline spray to get rid of her fleas and ticks but, I was so annoyed with those fleas, I pull them out with my hands until they were all gone. Outline though helped my dog to have no fleas and ticks. I know if you tried to pull them, they will leave a wound. I usually tried to remove them while my dog is in soap lather, soap make things slippery.

• United States
29 Apr 11
You can easily order a topical drop that keeps fleas, ticks and an assortment of worms off and out of your doggy. We have used them for years and they work great.

• United States
29 Apr 11
I don't know about the dogs, but the last time I went hiking, I had to pull seven embedded deer ticks out from my own self! I never twist, I always pull straight out. Some of those little suckers seem to want to clutch tight for all they're worth though.


• United States
29 Apr 11
I've noticed the ticks out too. I put stuff on our cats today, but still have yet to do the dogs. Frontline is the best product I've found for keeps ticks off. To remove a tick, I just pull straight off. I don't do any sort of twisting motion. That usually gets all of the tick out and off.