Fleas - are they unstoppable?

United States
May 1, 2011 10:43am CST
Well, I guess flea season (if there is such a thing) is here in full force. Unfortunately my dog has them and I am having a heck of a time getting rid of them. My dog is a 15 year old lab mix and, for the first time in his life, has super fleas. At least that is what they seem like. It is hard to give him a bath these days as it seems to hurt his old bones but I had to get rid of these things. So, after 2 flea baths, 2 flea collars, 3 applications of advantage, and constant vacuuming of my carpet with a flea collar in the vacuum bag, they are still here. Due to the age of my dog, he pretty much is an inside dog expect when he spends time in our back yard, which is where I assume he is getting the fleas. Has anyone had a similar problem trying to get rid of fleas this year? Any tips?
6 responses

• Romania
1 May 11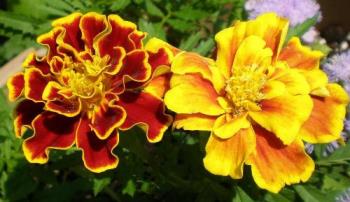 Hello Bomydog and welcome to myLot! Fleas are fearsome enemies for every dog owner.

They somehow became immune to the chemicals we use against them. I saw fleas on my dog after two weeks since we applied the pipette.

I never used Advantage, it can't be found on the local market but I use Frontline and Advantix successively. I suggest you to change the bedding for your dog's den frequently and to vacuum not only the carpet but the sofa cushions and every corner of the house, as fleas usually hide in there. (I haven't known the tip with the flea collar inside the vacuum bag, thank you for this one

, I'll try to remember for the flea season this year.) For the fleas hiding in the back yard, you should keep the grass cut short and spray it weekly with some chemicals against fleas. You can also plant Marigolds or Mint, both are plants that repel fleas.

• United States
1 May 11
Thanks for the welcome and the tips, inu. It is really crazy how they seem to come back right away. I know it also has to do with the reproductive rate. I try to vacuum my house daily because of this. I am not sure about spraying as I have little kids and really don't want pesticides in the lawn that they play on. I will look into the flower tip though. Maybe there is any organic method to get rid of fleas that is not harmful to children but I have found that those types of methods usually do not work.

• Romania
1 May 11
Hmmm, you're right to search for a natural remedy against fleas. You could try the lavender oil recipe that my friend posted here somewhere. It works well when the infestation is easy. But it didn't have any effect during the flea season, in the autumn. I still use it against ticks (they are my major concern here, as they carry a deadly disease called Babesiosis) and it is effective. Before going to a hike in the woods, I spray well my dog's coat with the lavender oil solution. The ticks seem not to like the smell of lavender, so when we return home, I can hardly find a tick on my dog.

Before finding this recipe, I used to find many ticks at the return from the woods.

You can try to spray the backyard with this lavender solution, it is not expensive and it can't do any harm to your children.

• Philippines
1 May 11
hi bomydog.. "super fleas" eh..? i hope it has no super powers! haha.. *just kidding!* we have 2 4yrs. old terrier-chao mix breeds..we had that same problem when my dad was hospitalized for about 3 or 4 months(in & out)! our dogs were neglected because everyone in the family were busy..after my father passed away, when we went back home, fleas and ticks were everywhere..it even crossed our neighbors house(good thing they never sued us)! my mom started thinking of solutions on how to get rid of the pests..she even opted giving away the dogs..'til we went to a pet shop and ask for a remedy..the vet recommended "frontline spray"(generic name:FIPRONIL) it's a bit expensive but my mom was determined to try it..Thank God, the fleas and ticks are gone..it's so effective! try it on your dog..

• Philippines
3 May 11
well you should try that..it super effective..in fact, the label says one application lasts for a month.. you should apply that
@least
2days after bath..


• Philippines
2 May 11
Luckily for my three pets who are yard dogs, I still haven't seen or noticed any fleas in their bodies. I see them scratch though but I still have to see these fleas. As I am a busy person I could seldom give them regular baths, but feeding of course, that's three times a day. I heard that a dog that is often bathed is more susceptible to getting fleas because bathing makes their skin soft and easier for fleas to inhabit.

• United States
2 May 11
I am not sure about the bath comment but the person I talked to at the pet store said if you bathe your dog after you have applied a topical solution to get rid of the fleas you may wash it off. I thought it actually absorbs into the skin but I could be wrong.

• United States
1 May 11
I have heard of Flea's but I haven't had any so far but from what I hear flea's can become a serious problem. I ran into a lot of people that said that they had wars with Flea's in there house. I hope you get them Flea's out some kind of way.