Facebook should have dislike button. what you say?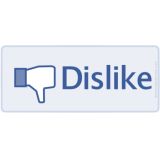 India
May 3, 2011 5:20am CST
Recently Facebook added "Questions" to their impressive list of features for the popular social networking website, today we thought we would look at other features which could be added, it seems to us as though a dislike button is what people really want. Even I personally like to have one dislike button with like too so that the posts I don't like could be converted into dislike :-)
5 responses

• United States
3 May 11
I have heard other people say they want a dislike button. I think they do not implement it to avoid flaming and or wars. I have heard some people say they like something and then unlike it so that the person can see that they intentionally disliked something. I can only imagine the havoc it causes, so maybe best to ignore certain posts because if too many people complain to facebook it could get a members account canceled. Would be like here where we have the positive and negative rating buttons and as we all know it gets abused too often. Usually when I don't like something on facebook, I just skip it and ignore.

• India
4 May 11
Even i would prefer having a dislike button in Fb. One really wishes for a dislike button when you see poor jokes and posts on your wall. Like the merit that i just told there are demerits as well. Many may avoid pressing the dislike button to avoid any conflict or fight between the friends. It can create a lot of problems than one can think.

• India
4 May 11
I reckon that it should be there. Then on the other hand I think It shouldn't be there cuz it will turn facebook into a haters ground like youtube.

• India
3 May 11
Seriously dude, with the sad statuses and lame jokes I get to see on my wall daily, I too feel that facebook should add a dislike button. The like and the dislike buttons like the one in youtube would be awesome. I this way we could let our frendz know how much we hate their comments and status, Instead of making a comment.