Do you sieve the soil before planting?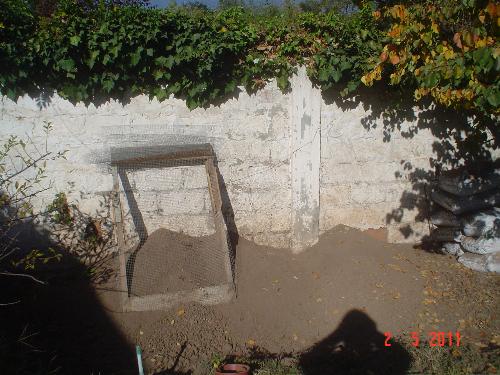 Chile
May 6, 2011 5:47pm CST
I have to do it, unfortunatly, because weeds get into every little space and won´t let the good plants grow. I have a grass in my house that looks ok in Summer when I cut it. Yet the roots go everywhere and they are difficult to take out. I have to do this every Spring. This year I´ll do it twice because I want to give it a try to a mixture of Winter veggies and flowers. We´ll see how it ends up.
9 responses

• Shingle Springs, California
6 May 11
To tell you the truth, I've never heard of such a thing, but sounds like a pretty good idea...

• Chile
6 May 11
Hi Dawn, I have a very small piece of land so I cannot accept foes there

. Weds are the worst, followed by snails. I am thinking of building a snail farm and capture the little beasts to use in a risotto, but I have no use for weeds.

Itñs a lot of work though, although the soil is not hard anymore, with all the added vegetable soil I mix.

• United States
7 May 11
No, I have never sieved the soil. I don't even dig up most of my garden. I put in a lot of compost and keep it organic so the worms and other creatures keep the soil workable. In the spring, I poke holes or draw lines and put in the seed and that's about it. There are a few weeds to pull, but not many, especially if I keep up on it. Weeding is a part of gardening. There is one area where the grass keeps trying to grow back in and that part I dig up each year and remove the grass clumps after shaking all the dirt back that I can. This area has only been gardened for three years, so I think after this year it will behave a little better.

• United States
7 May 11
Forgot to say that "they" say that every time you dig up an area, you expose that many more weed seeds to the surface, where they'll germinate. Not digging stops that. You will never get all the weed seeds out. Some of them will lie dormant for years and years until they're brought to the surface, then they'll grow.

• Chile
7 May 11
The problem with this weed grass I have is that their roots smother the other plant´s roots. I have to keep them on line. I suppose that it depends on what you have.

• Philippines
9 May 11
that will help priority plants to grow as to which growth medium is most beneficial for home- or commercially-grown plants.Soil can play host to a variety of insect pests and plant parasites as well as competing weeds that can take away valuable nutrients or sunlight from your plants. Of course, if you are growing a small number of plants indoors in small pots, then chances are that you won't run into too many problems with weeds or pests that you can't handle as needed. However, if you're planning on growing many plants that require a good deal of nutrients and live in a pest-susceptible environment, then sieving the soil may be the way to go in order to avoid spending money on pesticides and herbicides.

• Chile
9 May 11
I will not use pesticides or herbicides as a matter of principle. So I I use my hands and other mechanic tools to get rid of pests.


• Chile
7 May 11
I wish there was a way with this weed. Years ago, I wanted a nice lawn. One of my cousins knows about plants and all that. In fact, he exporat his produce. He told me how to kill the weed. I bought the weed killer and killed everything BUT the weed. I accepted it but I´m trying these methods that have to be done once every year.


• United States
7 May 11
We don't do this, we just pull the weeds as they come up. Because we have raised beds this is easier then just planting on the ground.

• Chile
7 May 11
I had to make raised beds for my veggies last year. It was expensive but worthwhile. Now I will try a Winter crop covering some lettuce, Swiss chard and other cold accepting crops.


• United States
6 May 11
I use to dig up enough spacing and put brick barriers all around the entire outer area. It was one big Spring job but once that was done all all was easy. Gosh I am missing my Garden more and more each time I see all the gardening discussions.


• Chile
7 May 11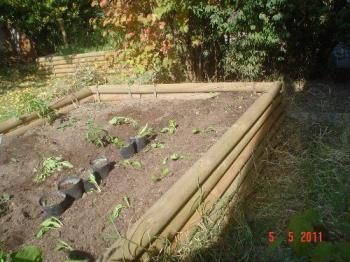 I put some bricks first ,but the /&%$ weeds managed to go over or under them. So now I spent some money making two raised beds, just for the veggies. The flower plants take care of themselves better.

• Papua New Guinea
6 May 11
This is my normal gardening style. I also break the soil into small pieces before I plant because plant will not grow well when the soil in large slumps. The growth of the plants are affected and the yield will not be that good and plentiful. Yes, I do it all the time.

• Chile
6 May 11
I do that (unexpensive but hard work) and then mix it with top soil which I buy. I thought my veggies were going to be the most expensive in the country, but then I went to buy some greens at the farmer´s market and they had the arugule up in the skies as price goes. And I have itt for free now


• United States
6 May 11

Nope. I dig an inch or so of dirt. Lay a weed barrier which can be seen in the attatched photo at the top left side of it. I then slice the barrier to place the plants/seeds. Then top it off with more soil and or mulch depending on the plants put there. HAPPY POSTINGS FROM GRANDPA BOB!!~

• Chile
6 May 11
I have dug bricks to put barriers and the weeds find their way. This is the way that has been better. But anyway, I have to do it every season.