Hubby is addicted to Netflex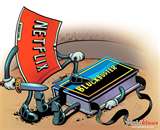 United States
May 7, 2011 8:39pm CST
My younger son started using Netflex on his XBox. I knew for several months that he had it but was no concern to me. One day him and hubby was talking and hubby discovered that he too could get it on his PS3. So that night I got online and ordered it for him. Now every weekend that he is home he has to watch his Netflex movies. But wait...it isn't any thing that I would watch. He has decided to take his PS3 with him while out of town working. I'm hoping that he will get his feel on Netflex while is working out of town..LOL Is anyone out there as bad with Netflex as he is?
5 responses

• United States
8 May 11
I've had Netflix for a couple of years now. While I'm not addicted to it I do enjoy it very much. It's amazing how many things one can stream through the site alone. Not having to have a movie sent to me, just right from the site. I do get movies sent to me, I don't juse stream them. Netflix is so good it is putting Blockbuster out of business.

• United States
8 May 11
Oh yeah Pam I will agree it is easier. I don't have a problem with Netflex it is just that hubby thinks that is all the tv is now..LOL. I still like to watch some tv instead of Netflex. Thanks for comment. You have a good day and keep smiling.

• United States
8 May 11
I guess I shouldn't be complaining right now about this. I'm have to watch certain shows every week on TV. LOL

• United States
8 May 11
No, fortunately we don't have this problem. I always buy any movies we want, well we all do. We like owning instead of renting this way we can watch them at any time we wish to or as many times as we wish to. I hope your husband gets his fill of netflix but he may not. I do know people that use it all the time. What you may want to do is order movies and copy them on dvd for him to watch if you can get him away from netlix. good luck with that. Happy Mother's Day Rose.

• United States
8 May 11
Ahhhh moon Thanks!!!! That was so sweet of you. Yep I hope hubby will get his feel. I went out of town with him last week and he said 10 times I know of that he wished he had brought his PS3 with him. I know he was talking about Netflex. It wouldn't be that bad if he would select movies that we both like but he always chooses those yucky movies..

I like to buy movies too. I do watch them over and over. Oh well, this week Im staying home so I got the tv to myself. Son has his own TV in his room..


• United States
8 May 11
Not a problem. I use to do this for my BIL's all the time because they had no cable or satellite and so I copied movies for them all the time. Now they have sat tv.

• United States
8 May 11
I do enjoy having Netflix. We have had it for about six months now. We got it after I got tired of the redbox, because it is so much easier to just pick the movies you want to watch without having to leave home and get charged extra for the late fees. My youngest is obssessed with Netflix. She is actually watching a movie on it right now. She loves watching scooby doo so she watches the movies on there often. My husband and I have movie nights sometmes each alternating picking movies. I wouldn't say that either of us are really obsessed with it though. We are sort of obsessed with our DVR because it records all our favorite shows and we make sure we have all our recordings set up. I actually just ordered two more DVRS for the bedrooms so we can all watch what we want. I think I am also going to get a Wii for my daughters room so she can watch netflix in there. Hope your husband gets his fix on Netflix while he is away. Maybe suggest to him, sort of like what me and my husband do. He picks a movie, then when it is over I pick one. That way you can enjoy each others company, while both enjoying using netflix.

• United States
8 May 11
Don't get me know I like Netflex but sometimes that is all he wants to watch instead of regular TV. I like the way your household does it. I might just suggest that to him next time he gets to come in.

• United States
30 Jul 11
My husband and 6 year old daughter watch Netflix together all the time. Its whats on the television most of the time. I however don't really mind as I see it as they're having their Daddy and me time. Not to mention a lot of the things they watch I also enjoy. And he and I get to cuddle up to a movie anytime we want without having to worry about returning a movie by a certain time.