Suggestions on a boulder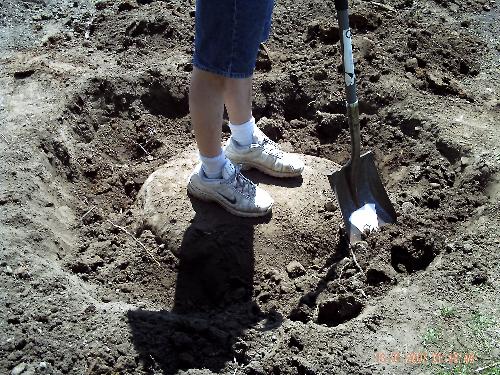 United States
May 8, 2011 12:43pm CST
So this lil beauty here we found a nice size boulder in our garden. It's a portion we are expanding into so it was unknown to us that it was there. The pic I have attached is just the top of it. Clearly we cannot remove it on our own. One of my idea is to put stakes around it to know where it is. Or my other idea is put the burning barrel/compost bin on top of it, though it's not quite big enough to cover this rock. But I wonder if anyone has any better suggestions? As its about 3 ft long 2ft wide atleast 12in or more deep that we've dug so far.
9 responses

• Garden Grove, California
8 May 11
3snugglebunnies wow thats a big one and I was hoping it was not buried so as we once got second prize t the county fair for a natural garden setting with a boulder that size some logs, ferns, and shade plants and had so much fun doing it too. If the boulder were up above the garden you could make a natural looking sort of forest looking garden but buried like that the thing could be a menace too. So p erhaps my idea of a nature garden would not work. bummer. I wonder how deep that thing goes as that could be expensive to try to dig it out. I suppose you could hide it wit some low growing shrubbery type ground cover but you need to knoe where the heck it is so you do not run into with a hoe.

• United States
8 May 11
I thought maybe it could be a center piece for some creative ornamental gardening, then she would be sure to know where it is and not hurt herself or her tools.

• United States
9 May 11
Hard to be creative when it's 6in below ground level so it can't be much of a centerpiece. Though I was teasing hubby to put a liner around it and put gold fish in there


•
8 May 11
I would just make a feature of it. Use it to stand a big pot on, filled with flowers or a big specimen plant if you have one. Or maybe a bird bath or something else decorative? Or, if you plan to plant any large permanent plants in that section of the garden, you could put one right next to it.

• United States
8 May 11
That is what I meant a bird bath. Great idea!


• United States
8 May 11
Could it be a wonderful spot for a rock garden. This can be a wonderful addition to a yard.

• United States
14 May 11
True but it's in a portion of our veggie garden. Too bad we couldn't move it as it's just way to big to put by my lil spot wit rocks.

• India
11 May 11
Hello 3SnuggleBunnies, that's quite a boulder you found! I really liked the other suggestions to dress it up like with shepherd's crook and hanging bird feeders from it. That would really look good. I just got an idea - its quite roundish in shape so you dig the ground around it a little bit in such a way so that you create a sort of flattish bed around it. Then you could paint this boulder all over with really bright colors, possibly color it to make the boulder look like a giant ladybird bug. Plant some really low growing flowering plants or simply a mix of different kinds of ornamental ferns around it. That would make it look like a BIG ladybird sitting amongst your ferns! A bit of work but I think its really great and an unusual idea, it will be quite a showpiece in your garden!

• United States
9 May 11
I guess I'd try to make it part of the landscaping. Maybe you could paint the top of it to make it pretty and place flowers around it as if it's meant to be there.

• Chile
9 May 11
I love rocks as part of a cacti garden. You can leave a space, mix the soil with sand and place some nice cacti around the boulder. It can be the center of interest in a graden instead of an ugly thing.

• United States
8 May 11
I don't think I'd try to remove it. That would be a big job! As others have said, put a container on it, or a fountain or a bird bath. Or dig out around it a little ways to make a depression and fill it with plants that like water. Put a big gazing ball or one of those garden elves or something on the rock.

• United States
8 May 11
That is a beauty! Wow I wonder if you can put something on top like a fountain or a bird feeder somehow. It sure is big so you may as well decorate it somehow. Because removing it will cost quite a bit. Happy Mothers Day SnugglesBunnies!


• United States
8 May 11
Take into consideration that I am answering from e mail and have yet to see the picture, I think it is good to mark it some way so that you know where it is. Maybe instead of stakes, use some shepherds' crooks and hang bird feeders or flowering plants on them. Dress it up, turn it into a featured interest, then garden all around it.