Baked, deepfried, or BBQed?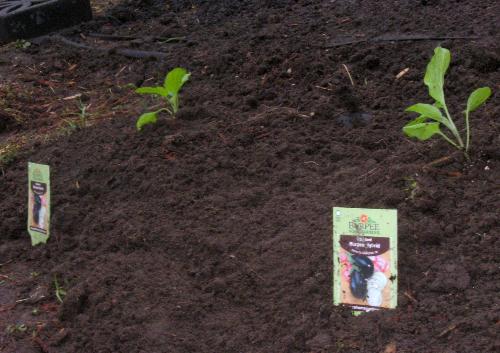 United States
10 responses

• United States
9 May 11
I would love to grow eggplant but must admit I can't eat them. I would love to be able to see them mature on the vines though. I use to do a lot of gardening and many times would not eat them but enjoyed sharing them with all my neighbors. I use to supply the veggies after growing them for the barbeque and they supplied the meats, gosh it use to be so much fun, now I miss those days. My boyfriend likes the eggplants likes them on the grill too, and I use to also put some long stem onions to give it a robust flavor. He use to eat them up. lol

• United States
9 May 11
I'll be posting pictures of the plants as they mature etc. HAPPY POSTINGS FROM GRANDPA BOB!!~


• Chile
8 May 11
I´ve never had them barbequed, but after this post I will sure try them. But I make an awesome appetizer with diced eggplants, onions, oregano, annd garlic (all from the home veggies. You stir fry them in olive oil, add vinegar and after taking them out of the gas, add minced parsley. YUMMY!!!

• United States
8 May 11
I spread melted buttewr on them, then add garlic to taste then grill a few minutes each side. I also place foil on the grill as they tend to fall apart and stick to the grill. Sounds like an eggplant salad that you mentioned. HAPPY POSTINGS FROM GRANDPA BOB!!~

• Chile
9 May 11
I love eggplant so I try all the dishes I can. I also love moussaka, a sort of greek lasagne that has eggplant instead of pasta. It´s better than lasagne.


• Garden Grove, California
8 May 11
grandpa bob hi I love eggplant fried and roasted and in ratatouille too'which is so good with tomatoes and onions and eggplant, just a real taste treat specially if you makeit from all fresh ingredients and cooked just till semi tender. but eggplant Parmesan that they serve' here is also good. I just like eggplant.




• United States
8 May 11
I may be trying a few new recipes for eggplants as I've only eaten them by themselves and never in a full dish type recipe etc. HAPPY POSTINGS FROM GRANDPA BOB!!~

• United States
9 May 11
May add them to my veggie stew I make on the grill. HAPPY POSTINGS FROM GRANDPA BOB!!~


• United States
9 May 11
It's one of those foods that can be squishy and funny feeling to it. HAPPY POSTINGS FROM GRANDPA BOB!!~

• Gloucester City, New Jersey
9 May 11
I love eggplant in Moussaka as well as fried (Mom always cut it into French fry strips before breading it). If it's cut thin, I like it grilled and on pizza. I also like it in Eggplant Parm. YUM!!! Getting hungry just thinking about it!!!

• Philippines
3 Aug 11
I love eggplants cut and sliced into halves then fried in olive oil. I dip them in vinegar with diced garlic. It tastes really great especially when eaten with fried rice and dried fish. Look at the photo. This is a typical Filipino breakfast dish, dried fish, fried eggplants and okra. I just love to eat this kind of simple but very nutritious dish. I wish I can grow my own eggplants too.


• Philippines
3 Aug 11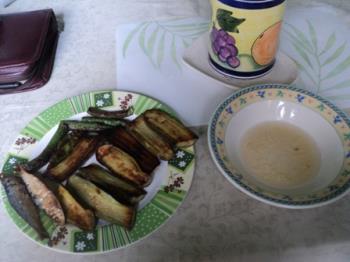 Oh sorry, I missed adding the photo.

So here I would like to attach the photo this time around. This is for you to have at least an idea of what most typical healthy conscious Filipinos prefer to eat in the morning. This is certainly healthier than the fatty and unhealthy bacon, hotdog, and other processed meat that most folks around the world love to eat.


• India
19 Aug 16
That is a nice patch of eggplants you have there. I prepare several different varieties of curries with eggplants, but my favorite recipe is a very simple one, thick slices of eggplants rubbed with a mixture of red chilly powder, salt, a little lemon juice and left to rest for an hour or so. Then coat each slice with breadcrumbs thinly and shallow fry in oil or butter on low flame. It is very tasty and simple to prepare.


• United States
9 May 11
I've only eaten eggplant once. And I don't remember how it tasted because it was so long ago. I remember I ate it so I know I liked it okay. My mom never cooked eggplant, and neither did anyone else in my family. I've seen it used in vegan recipes, so maybe I should try it. I would figure it tastes better without meat being in the dish.