Have you changed your big oldage TV set to LCD/LED models?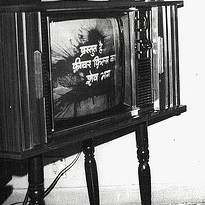 India
May 11, 2011 11:03am CST
I still have a old tv of my grandpas

. My sister exchanged the old set and got new lcd tv. I got a new LCD tv for my kids for their eyes. But I really like my old tv, which is big and with drag doors. I feel its a tressure and it remind my childhood days

. We use to like those doors and fight for who will open them

. You still have your old tvs or switched to LCD/LED/3D
5 responses


• India
12 May 11
Hi Youless, Thats nice and see you are calculative and planning well. Am happy for you.



• India
12 May 11
Hi Stepcjh, True

, many of us especially our kids like the new digital ones which are more good and clarity. But the old tv looks like an ancient gift so i retain it even if it works or not.


• United States
11 May 11
Actually, I have a radio / TV card in my computer! I've got an old portable TV too - yes, that's what they are still called! Portable? Damned heavy compared with the new ones. I did like the old TV's, all wood cases that looked like a piece of furniture. They were like a table - you kept the family pictures and plant pots on top of them. Well my family did. Polished it quite regularly too. Haven't cleaned my plastic TV at all! The shapes have changed but the programming hasn't - still as bad as ever!

• India
12 May 11
Hi Petersum, Thats cool

, even i have tv card on my computer i use it when i wanted to watch cricket and matches. Yeah i like the wood cases and design. My kids use to place their toys and we have family picture as well

. You shared exactly the way i like my tv. Happy to hear yours!!



• Vienna, Austria
12 May 11
hi we are using an LCD right now but yes we have an old model of t set actually this TV is nice to preserve so that the next generation also can see what is the style of this TV if it is already flat screen they do not know how the real TV before maybe they can just see at internet or pictures, But honestly i like the old tv rather than the new tv now