What will you do when you pick something on the road?

China
May 19, 2011 4:45am CST
We often talk about such questions,as everyone hopes luck will come to him or her.However,when luck really comes to you,what will you do?This afternoon,I was riding my bike somewhere for some personal affair,when I suddenly noticed something shiny on the right side of the road.So I stopped.It was a coin,1yuan RMB.I picked it on my pocket. Almost at the same time,a song which we had sung in our childhood,about what we should do when we pick up something,returned to my mind.We should return all the things we find to the owner or we should hand to the police if we should not find the owner. However,the morden society has given us too much misery.When it comes to the topic about the returning things to owners,we may usually think about it for some minutes.Even polic sometimes are not belivable. So,what will you do,when you pick up something does not belong to you?
5 responses

• Philippines
19 May 11
I have picked up several things in the office before that seemed not to belong to anybody but I never kept it to myself but instead I posted a lost and found note on the bulletin board for everyone to see.if nobody claims it after several months or sometimes it takes a year, we either donate it or give it away to anybody interested. However if I found money on the street and nobody is there, I would keep it for myself as there is no proof that it belongs to anybody and there's no way, in my opinion I would be able to find someone honest who would say it's theirs. And I'm. Just being honest too by giving my answer as this is exactly what I would do.

•
19 May 11
If I find money, and there is no-one around, I keep it because I know The Universe has given it to me to help me out. If I find certain belongings, I do my best to return them to their owner, or hand them in to The Police.

• Philippines
21 Sep 11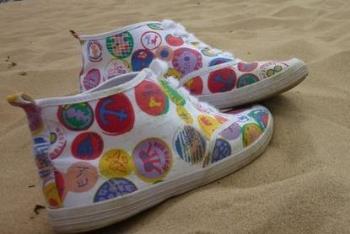 When I found something valuable along the road, I surely will take that as my own if there is no lead to identify the owner of that valuable thing. If there is a lost and found place in the area, I would turnover that thing there. But of course I won't turnover any valuable thing to a police. Nowadays, I don't think I should ever trust a police. One time I found a wallet but it has identification card and calling card so I called the owner and he was able to claim the wallet from me. Now if the wallet has no identification then I think I can claim that wallet as mine. One time also I one found a pair of shoes in the sand while we were on the beach. Of course I picked the shoes and did not keep this but instead I roamed around the beach and asked who could be the owner of the shoes. Well a kid claimed it was hers and it was indeed hers as testified by her companions.

• Philippines
19 May 11
Even if the society today isn't that honest when it comes to these situations, I'd still try to return that valuable I picked up. My parents taught me to be honest and I will carry that lesson to my grave.


• Philippines
19 May 11
When this thing happen to me, I will return the thing if I saw an owner's identification or if I know who owns it. If I got no idea, I'll just keep it and wait till someone looks after it then I can return it back.