Bird bath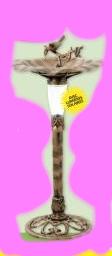 Canada
May 23, 2011 2:25pm CST
I bought this bird bath at Tiger over the weekend because we have a pool and I keep watching the birds trying to drink the water and since they cant reach the water they fall into the pool (poor thing)!! So I told hubby to go get me this cute bird bath so they have a place of their own to drink and splash also and it will be free of chlorine. So its out there and I havent seen one darn bird go near it. Im not sure if its missing something or if the location is not good. Its right next to the pool, so surely they can see it. Should I add sugar to the water maybe? We keep it clean, change the water every day. So any ideas why they come near it? PS: sorry about the picture, I got it from the Tiger Pamphlet online.
4 responses

• Australia
2 Jun 11
I moved here around 5 and a half years ago. My birdbath (which had been travelling with me for a long time) was given centre position in the front yard. Imagine my joy a few weeks ago when I saw a bird in there flapping in the water and preening and fluffing his feathers. I was so delighted...gees, you might have to wait that long too.

Mind you, I often clean bird droppings out of it so I know they use it...I just haven't seen them doing it until a few weeks ago. They probably make one bird keep watch while they play and if he sees me coming to look or coming outside, he warns the others and they fly off before I see them. The rotten, stinking, lousy birds.

Maybe that's what is happening to you too.


• Canada
3 Jun 11
Haha, took you that long huh? At least now you have the pleasure of watching them...one of them at least haha. well I keep seeing them fall into the pool trying to get some water but they wont go near the bath......yet. No bird droppings in mine and I change the water every day. They cant see me coming as Im sitting here typing and can see the bath and the pool through the patio door. I figure if they feel safe walking along the edge of the pool, why not the bath. So Im learning patience here lol. Thanks for sharing!

• United States
23 May 11
It will take them awhile, do not add sugar. They just need the water, but it may be they are still fascinated by the pool. Put bird feeders near it, maybe, or put it near bushes tht they can sit in and hide in if they feel threatened.

• Canada
23 May 11
I have over 100 trees on my property and there is one right next to the bath. I picked that spot because they hang out in that tree and the bath is right between the tree and the pool. I guess they prefer the taste of chlorine haha. I will wait a while and if they still dont use it, I'll try a new spot. Thanks for sharing......no I wont add sugar.

• United States
23 May 11
Very cute. They just have to find it first....and if they don't in a week then move it. I have never had one...but my parents did. It was so much fun to watch them taking their baths and playing in it! I bet you have tons of fun!

• Canada
23 May 11
Good idea, I will leave it there for a while and if they still dont use it, I'll move it somewhere else. Yes I cant wait to be able to watch them. Thanks!

• United States
23 May 11
Give it some time! They might be used to going to the old bird bath. Or maybe they are scared because they have fallen into your pool so many times so now they are hesitant. I am sure they will come. Once one tries it out others will surely follow.

• Canada
23 May 11
Ahhh I think they were scared when they fell into the pool. Strange thing is, that same bird kept trying to drink from the pool though. I will give it time. Thanks :)