I'm sorry but I'm gong to feed the cats!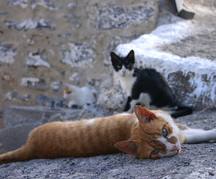 United States
May 26, 2011 9:12am CST
I own 2 cats, I feed 5. My husband gets so mad and hollers sometimes because I feed the stray cats. I know I shouldn't. I know it will make them hang around. I don't want any more, I don't want them to stay. But at the same time I know they are starving! They are hungry and tired always looking for food, and I have some. I just cannot ignore that. I feed them! I do at least take their food out to the edge of the yard so they won't be right outside the back door. I guess I just have a soft heart.
6 responses

• India
26 May 11
hi, we are having cats as pets and they are now more than 15 in the home.We feed them and the remaining food we give to stray dogs. We thought of not feeding the stray dogs as they kill the cats .We went through such incidents. We thought of a stray dog which has seven puppies to feed , we also thought like u soft hearted and fed it.With it daily other dogs came and got habituated to getting food with this mother dog. Today in the morning one of a dog has killed my small kitten .It just took it off and killed it so rudely.

• United States
26 May 11
I am so sorry you are dealing with that. With the economy turning so bad I think people are not thinking of dogs and cats needing to feed themselves. I know my income is minimal and I have to not take in any more pets. Even though it breaks my heart to know all these animals are just either entering shelters or know people are just dumping them. hope your situation gets better.

• United States
27 May 11
omg, I am so sorry about the kitten! Something similar happened to us several years ago. We didn't realize the dog would hurt the kittens, well he didn't mean to. He was actually playing with it but too rough and we didn't know he had it till it was too late. I guess we both learned one there huh! Thanks for sharing that!

• New Zealand
26 May 11
As long as you're helping any life form to survive, i don't think you're doing anything wrong with that. Just make sure that these cats find some place to stay for rest of their life. Or just move them to secure place other than cat pound.

• United States
27 May 11
I like the part about helping any life form to survive!

• United States
28 May 11
I have a soft heart just like you. I have 1 cat in my house - he is almost 10 years old. Also, there are about 10 stray cats that live in the bushes behind my townhome. The association has told us not to feed the cats so I don't - even though I want to. However we have so much wildlife here in Florida that none of these cats are skinny. I don't know if someone in the houses that back up to our association are feeding them or what but again - they are not skinny at all. There are all kinds of lizards, birds, squirrels, raccoons, etc. living in the area that I know they hunt for them. We don't have any rodent problems here and I am certain it is because of the stray cats back there.

Anyhow I used to feed about 10 stray cats when I was a little girl. I could never bear to watch any animal suffer from starvation. I ended up adopting and keeping a good 7 or so of them over the years during my childhood. In the end you have to do what you know to be right and true in your heart, no matter what anyone else says.

Have a great day and happy myLotting!!!

• United States
26 May 11
I have an elderly neighbor next to me and she feeds any cat within her sight! One of the strays had a litter of kittens and she lives in a tiny RV beside her sons house that has no skirting under it and I knew as the kittens got older they could do some real damage up under the doublewide So I talked her into getting a cage from animal control. We managed to catch all but 2. Animal control come and took them have them spayed and neutered and then release them in this really pretty park by our bay. Someone comes every day to feed them Now the two that did not get caught I fed the one and named her pumpkin My neighbor fed the other he got ran over and killed Pumpkin would never allow me to touch her and she would come to my back yard and sit and howl for food She has not come by in about 3 months so I assume either someone finally caught her or ran over her. Sad that there are so many strays and around where we live, people just live to run them down. Good Luck feeding yours I have two inside cats and would not trade my one for anything. the other one belongs to my son so if he ever moves out she goes with him. But tink is everywhere I am he acts more like a dog than a cat!

• United States
27 May 11
Thats a good story! I am surprised animal control released them into a park, But that's great, I'm glad they did that rather than some other option!

• China
27 May 11
it's so kind of you all to do so.you have done nothing wrong,and i believe your husband will one day come to understand you.here in my town,there aren't many people who keep pets and there're not many strays as a result.i've always wanted to keep a dog as a company but my mom hates it.she coundn't stand the smell from all kinds of animals.several months ago,my cousin saved a poor little cat(which was abandoned just after she was born!)now i'm so happy to see that she has been living happy and healthy in my cousin's family.she is so cute! if everyone can have such kind of heart as you all,there will never be strays any more.we should help them and love them,and they are worthy to be loved. and finally i'm so proud of you and i believe your husband will feel so too!