Postloop - Another forum site that pay to post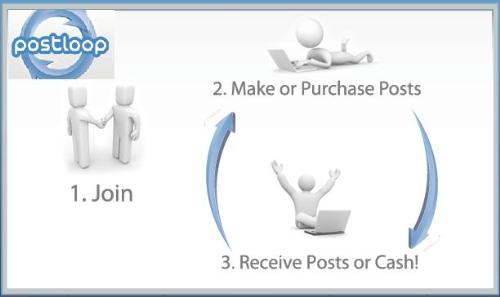 Malaysia
May 27, 2011 5:39am CST
Recently I have found a forum site that paid us to post which they claim will pay us $0.05 for a point or we can exchange the point for a free post for our forum if we are the owner of a forum. I am still quite new to the site, so I do hope someone who are the member of the site and are familiar with the site can tell us more about the site. I have read the FAQ and term of use. But I think the real life experience from others will be much better and easier to understand. So, please share with me your experience or comment about this site.
7 responses

• United States
30 May 11
Even I have read about this site and I joined it too but I am not active there. It happens with most of the sites that I join that I eventually come back to working on mylot.

Well if someone can share their proof of payment from this site then we can be sure about working there. Otherwise Mylot is the best PTP out there.

• Malaysia
31 May 11
Hi! Oh really! You have join the site, have you manage to pass the preliminary round before you get to join others forum? I too wish that if someone can show me the proof of payment I will probably work harder to get into it. Anyway, mylot is always the best for me.

• Malaysia
28 May 11
After going through all of the comments or responses above, I don't think it is an ideal site for us to earn online. At first, I were very interesting in it. But now, I am worrying there will be a lot of excuses to deny our cash out request later since they are so strict in the posting.

• Malaysia
30 May 11
Yeah, they are too strict and I think that kind of rules are not necessary at all for a forum. What a forum will want is just the information, the more people join the forum will be better, I just do not understand why this forum site will set such a strict rules to restrict people who want to join them.

• Philippines
6 Jun 11
Hi there! I have been paid my PostLoop. I earn about 5 dollars a day in that site and I only spend 2 hours in the internet. :) PM me and I'll send you my proof of payment!

• India
27 May 11
I also heard about this site. But I am not the member of that site. I have no experience with postloop. I think that there are some strict terms and conditions for forum postings. They won't accept all our postings. We should be excellent in grammar. If there is grammatical error they will reject our postings. I got this news from this site. I know nothing more about it.

• Malaysia
28 May 11
Yeah, I just found out that you must go through a screening before you can really post on others forum. If you fail on the screening, you will need to reapply and what you said are correct, they want someone who having a really good grammar in English, if they think your grammar under their expectation, they will reject you.

• India
27 May 11
I have also heard of it but have no practical experience of the site.

• Indonesia
27 May 11
Thanks for sharing. The point is, no matter hoow much they will pay us, the community is the most important.

• Malaysia
28 May 11
It depend on what you want and what is your objective to join the site. If you are just looking for friend and information sharing, community will be more important but if you want to earn money, of course knowing the best way to earn at the maximum will be much important. TQ

• Romania
27 May 11
I advise to post only here,because this pays you.If you go to another forum or website,your time will be devide by 2