As Promised Mum In Her Hat!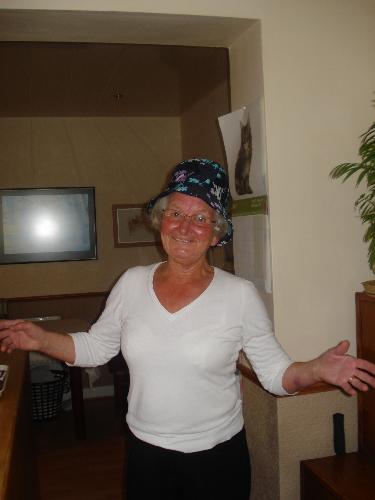 Carlisle, England
10 responses

• United States
29 May 11
The hat looks great on her. I make hats similar to that regularly. I have a big bag, well, really three bags of things I have crocheted over the past couple of years. I need to try to sell them or give them away I guess. Mum's hat looks like it is very well made.

• Carlisle, England
30 May 11
Yes, it does look well-made, I agree. I reckon you should get those bags on ebay. I don't know if you've ever used it but it's a good outlet for getting rid of stuff you don't want.


• Carlisle, England
30 May 11
From what I can gather it is free to join Ebay. The only money involved is how much you want to sell an item for..the fees come after something is sold and for something to be listed. Sometimes, Ebay offer free listings (usually at weekends) so that's maybe something to consider. It's a pity you don't have a camera though.


• Carlisle, England
14 Jun 11
Put it this way, she didn't wear a hat on my wedding day! She's small, slight but her head is way too big for most hats. They don't "sit" very well at all and we've had hours of fun trying hats on in shops, just so we can have a laugh at each other..all very light-hearted, nothing nasty! As hats go though, the one in the pic looks rather good doesn't it?



• Carlisle, England
30 May 11
Awww, thanks very much! She's got way more energy than me and she's 20 years older!


• China
29 May 11
In that hat,your Mum doesn't look her age,at least 5 years younger.And again,the dark blue hat doesn't show the dirt.

• Carlisle, England
30 May 11
Aww that will make her day when I tell her! Thank you.



• Carlisle, England
30 May 11
Mum told me it does blow off her head in strong winds but it's certainly different!

• Enumclaw, Washington
28 May 11
I think she looks very nice. I love the hat!!

• Carlisle, England
28 May 11
Keeps the rain off her head which is the main thing!


• Carlisle, England
28 May 11
Well, it's all a thumbs up so far. Hoorah!




• United States
28 May 11
I love it!
You are such a sweetie to remember to share it with us.

Tell mum, she is a very lovely and pretty woman. Tell her I love the hat! She has a great smile too.

I am a hat wearer so I know she will enjoy her hat. Thanks so much for sharing this with all of us.

• Carlisle, England
28 May 11
I don't know why she was worrying either. It's a great hat and, er, certainly DIFFERENT!


• Garden Grove, California
28 May 11
hi Janey I love it, and think its cute on your mom, colorful and well she gives it a flair. I see nothing wrong with it at all. she has a flair and gives it some pizzaz. nothing wrong with that. She is cute in the hat, tell her to quit worrying she is fine. well thats my opinion anyway so there.




• Carlisle, England
28 May 11
She's sitting next to me and I said to her that she's no excuses NOT to have a go on the internet. I may even let her loose on MyLot. We shall see! Thanks for your lovely comments about the hat. Mum appreciates them.


• United States
28 May 11
I am going to have to get out of this mode so that I can see that hat. I had to go look up a trilby after your last discussion because I had no clue about it. I know you promised "colorful" so I know it is right up my alley