Are you close to your neighbors?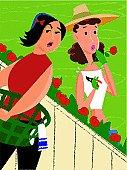 Malaysia
May 30, 2011 12:02am CST
People who live in the town almost most of them never know who are their neighbors and they never know who are staying next to them. They will just shut their door up after came back from work and never go out and socialized with others. I think this is mainly because of security reason? Whereby people who live in the village will know everyone and they are closer to each other. They will help each other in daily work and they will exchange food and share their story together. So, how close are you to your neighbors? Will you borrow something from your neighbor that who are not really close to you? Do you help each other in the neighborhood?
4 responses

• South Korea
30 May 11
No actually. I don't even know who my neighbors are. I do know two houses though. They are really good and kind. I guess all of us are busy and have no time for socialization.

• Malaysia
30 May 11
Hi! I think that is what happen to most of us where we are too busy for socialize, after came back from work, we are so tired and just wanted to stay at home and relax, that is why we don't really know who are our neighbor and I think that is really unhealthy, don't you agree with that?

• South Korea
31 May 11
Yeah well the other thing why I don't get so close to my neighbors is that when I was a kid, I knew everyone in the neighborhood. We were like one big family. But then we moved to a new house and I was really devastated coz i had to leave the memories and people behind. Maybe that is why I don't allow myself to be close with neighbors.

• United States
30 May 11

I am related to my neighbors so i guess that i would have to say that i am very close to them. it is a good feeling to have your family so close. they may get on your nerves once in a while, but it is still a comfort.

• Malaysia
30 May 11
Wow, so your relative all staying near or next to you? That is nice to have such a big family that not staying together but staying nearby. At least you don't need to worry if once day there are any stranger come to your neighborhood, you all can recognized immediately. Argument among relative cannot be avoid but if that is just a small fight, that will be fine.

• Malaysia
31 May 11
Whenever there is a need to help, we shall help each other.\ Staying together does not mean we must know everything about our neighbors. The most we are concerning is the privacy and no gossip. Once we start bothering the private life of our neighbors, gossips will be startesd too. We want to be helpful neighbors with concerning the privacy and no gossips around.

• United States
31 May 11
I think being close to neighbors depends upon where you live. If you are in the urban community where people are buys and they are always away and when they go home they are tired already and no time to socialize, you will never be close to your neighbors. You are right. People in the village are closer than those in the city because they are just working maybe around the house, farming, or what.. so they can see their neighbors all the time, they can talk, and more. Situation is different and the type of work which make the neighbors closer to each other.