What Were You Doing On Net Before Joining Mylot?

India
June 3, 2011 3:02pm CST
Some times I have a feeling that I have got addicted to Mylot! Frankly speaking today is is impossible for me to pass a day without coming on to this forum ,why not it be then for a few minutes or so! I feel terribly disturbed if I miss Mylot for any silly reason! Some times I think for myself what was I doing on the net before coming to Mylot, wasn't I happy at that time?

Well , in fact I was active on Yahoo answers before joining Mylot and I was a regular visitor there! But having come to know about this forum I got shifted to this site. Initially like many of the members, I to was interested in making money. But having joined this forum and having seen ups and downs of this site and people around here and their discussions I am no more interested in making money, as it takes a long time to make some real good money on this site! And what ever I am getting from this site is just a sort of peanuts for me,when compare the amount of time what I am putting in to this forum get a few cents! But then I am hooked to this site for I get lot of relaxation and get an opportunity to get relieved of my tensions on this site. So now I practically stopped visiting the last site the yahoo answers which was once my favorite site!

How about you ? Do you feel you are addicted to Mylot? What was the site you were visiting on regular basis before joining Mylot? Please respond! Your responses will be highly appreciated! Thanks !

10 responses

• Italy
3 Jun 11
You mean there are other things onbthe net besides myLot?


I had a group on MSN and ran a chatroom on IRC many moons ago. It was in Italian and the non-US MSN groups were the first to be closed so we moved to IRC and then ... I found myLot and gave up with chat. Well, maybe I didn't give up completely because I seem to be doing the same thing here, day in day out, now!


• Italy
3 Jun 11
Hi inu!


I think it is more than a habit. I must have it in my genes


• India
4 Jun 11
Hello Dear Ms Diana! I meant there were other things on net besides Mylot before I joined it!

!! Yes, now I also feel that you must be having this habit of Chatting in your genes! Other wise for an average individual it is really difficult to drag on the discussion the way you does!

Hi Dear inu!There is a old saying, Habits die hard! If we remove 'H' from 'Habit', 'A bit', still remains , if we remove 'A' from it again the 'Bit' remains, and even if we remove 'B' from the remaining Bit,'It' still remains! So, we can't find any fault with Ms Diana as it is the fault of the habit, for which she is so proficient in chatting to make this forum a lively and fun filled one!

Thanks for the response to both of you dear friends!


• Romania
3 Jun 11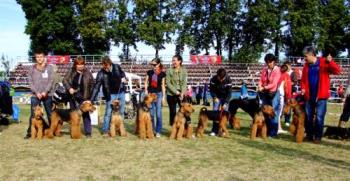 Hello AKRao, I think everybody who has a rating higher than 1000 is already myLot addicted. Me, too, I can't let a day pass without coming here. Before discovering myLot, I spent my time on a dog lovers forum. I still go there from time to time (not daily as I used to) because I have friends there that are important to me. We met in real life, too and we are very close, as we share the same interest for Airedales.

• Italy
3 Jun 11
Ah! Great that you can come here to myLot and talk about your dogs among friends from over the world and earn too! If only I had stopped using the chatrooms sooner and found myLot at the beginning (and some of the founder members might have become my refs too!


)

• India
4 Jun 11
Hello Dear inu! Yes, you are absolutely right! people with score above 1000 are definitely are Mylot addicts! I am really happy to know that I have met another dog lover today on this forum! I was a canine practitioner for few years before finally settling as a Resident Stud Vet! Dogs are really very intelligent and adorable pets! I used to enjoy my profession as canine practitioner!

Since you still visit that site, it is quite clear that you are true Airedale lover!It must be great fun to meet your friends in real life and discuss about the Airedales! What are the activities of this forum basically? Dear Md Diana, Baring the referrals part,I think you should have no regrets for joining this site bit late,for now also you are one of the prominent and dominant member of this forum and almost every active member knows about it!

Again Thanks for response to both of you!


• Romania
4 Jun 11
It
is
great, MysD. But, with the friends I met here is more difficult to meet in the real life. Though, I've learned to never say never.

Don't feel sorry about the referrals you could have had. Your first account was cancelled so those referrals would have been lost, anyway.

AKRao, we are all Airedale lovers and, as things go with every persons who share the same interest, we can always find subjects of discussion. That's what we do on that forum: discuss everything about our dogs.



• United States
4 Jun 11
Hi AKRao, Prior to myLot I only used the web for a little socializing like facebook an myspace and or researching for articles. When I first joined here I was under the impression it was an article writing site, as that was what the article conveyed. In fact I had no idea bout forums and or Q&A sites. I have tried chatting years ago but not into IMing thing at all as most just want to date, or at least that is all that people wanted to do with me. lol I should have not put my picture, huh?

Being so net naive I really was not interested with anything outside of researching, article writing and or socializing with offline known people. But I am ever so grateful to be a member of myLot as I have learned so much and truly appreciate the wonderful people I have met here on myLot. I can't say this enough your walking horse is like therapy for me, soothing and calming. While I read anything you post my eyes revert to your avatar constantly, funny as no other avatar has me do so.


• United States
4 Jun 11
Hi _soonernation, Not at all, I have a wonderful love at home, therefore my intentions online are far from dating.


• United States
4 Jun 11

Yes for any prospects but actually a blessing for my boyfriend.


• Italy
4 Jun 11
Even if there was a chance _soonernation_, you would have to join the queue!




• Greece
4 Jun 11
You do not need to be that addicted to Mylot. It is a very interesting site to be on everyday, but missing one day or two will not make big difference. Before joining Mylot, i did many things which I keep doing. Playing online web games, watching videos on youtube and others, streaming radio and TV, information gathering etc. But the thing I mostly do is chatting through instant messengers. Have a nice day!

• India
23 Aug 11
Hello Dear Makatas! extremely sorry for being late in commenting back! Yes,I agree that any addiction is not good this in one's life! but then possibly , since I am with this site right from its inception I have got a special affinity for this site or you can say that I have got some soft corner for this site! more over this site really works for me as a big stress relieving place! As I come to site and depending upon my mood I may make some discussions or respond to few discussions or may be that I simply go through other's discussions! This makes my mood freshened up! Before joining Mylot you were involved in many things on site. it is interesting to know that you play on line web games,I think we require a fast internet connection for this! I think broadband connection should be OK for this! similarly for watching videos on the you tube also we require such fast network connection! Yes Chatting through the instant messenger may not require to a fast network and it is an interesting way of interacting with our distantly placed friends1 Thanks for sharing your views and I sincerely appreciate your response! All the best!



!!!

• Philippines
4 Jun 11
i was chatting with a very close friend of mine. he then recommended me here. so from there, i enjoyed posting here and creating discussions and making quality comments. earning here is really good but that is second priority now, for i just love to be active here.

• India
4 Jun 11
Hello Dear Golden Planet! Welcome to Mylot! I am really happy to know that you were recommended to join mylot by your friend while you were chatting with him! This is really a fantastic site where we have got many things to learn. This is a sort of learn while you earn type of site.Here we have got members from all over the World,ranging from the age of 18 to 83. We have members of both the gender. We have highly educated members , professionals, house wives, employees and what not. We have got people from all walks of life who are very understanding, co operative, helping, well manner and caring in nature! This is one of the site where one can see that members are using very polite language, the abusive language is not at all tolerated and this site is strictly supervised by the admin. Thanks for responding!

• Mexico
3 Jun 11
losing my time whitout earn extra money, i am happy to found mylot.

• India
4 Jun 11
Hello Dear mlla! I can understand this! There are many people who simply visit various sites just out of curiosity and they keep on jumping from site to another site in search of a thing about which they themselves are not sure! I too had this type of experience initially when I had my new internet connection! Some people even waste their time in chatting with some strangers! Luckily am not a Chatting addict! Now you have found Mylot , you will have some nice time here on this forum , while making some earnings! This is really a 'Learn while you earn site!' Thanks for responding!




• Garden Grove, California
3 Jun 11
hi stilllove your walking horsie lol.I was doing mysurvey

.com and npdor.com plus listening to my Mozart music files and getting bored out of my gourd as I had just retired from working for 23 years in the library then I discovered mylot and was off and running full tilt. I have now been here starting four years. Yes I am also a true mylot addict,I felt lost if there's some reason I cannot get on my lot each day.thankfully I seem to be set to go with out any illness or having to be moved or any other silly nuisances. now I can once more enjoy mylot and the net again.I remember before I was playing jigsaw puzzles on the net before I discovered mylot.



• India
4 Jun 11
Hello Dear Ms Hatley! I really envy that you were with books,books and all books for 23 years for I love books! I have got a small collection of books at my place including a leather bound set of encyclopedia! You deserve a special compliment for this great task of yours! thanks that you love my horse, that is his and my luck that you have the liking for him! Were you happy with the survey site before joining the Mylot? I think you used to play Jigsaw puzzles also which indicates that the above two sites were not too interesting for you!

Yes I can understand how addictive you are about this site! I think you are still leading the score on this forum! So it is obvious for people like you who are so active on this site,this site is every thing for you! you can't even think of missing it! I have witnessed in one of your discussion how badly you were disturbed when some member misbehaved with you! At the same time I recall the responses of the members when a discussion was initiated about your illness on this site! Thus I know that that Mylot is every thing for you and you are enjoying it thoroughly! Thanks a lot for responding ! Take care!

Thanks dear Jessi for loving my walking horse! I will have to be careful in future with him, other wise he may be a spoiled child because of over pampering! LOL!


• Jamaica
18 Jul 11
Before i join mylot,i was chatting on messenger everyday and chat rooms.after joining mylot i did not know what to do,but after getting my first payment i got addicted. After i start to drop the chat room and,just visit mylot for a hour are too a day.And after i have learn a few things about mylot,its fun . I am hook here, but am trying my best to participate all day .


• Kolkata, India
6 Jun 11
i may not be adicted to it but i admire it very much.as you said it is a great way to relax live alone the earning opportunities.it is my lot that has changed my online activities so much.it is here where i found so many income ideas. a thanks to every mylotter here. earlier i used to be doing surveys online which i am still continuing because they are my main online earner thank you mylot and thank you for being my friend