Dog fell off the roof

United States
June 4, 2011 11:15am CST
Hello fellow mylotters. My neighbors dog managed to find his way through a hole in the roof and ended up crawling onto the roof and falling off into my yard. Poor thing, it is a two story house. I hope he is ok and has suffered no internal injuries. The neighbor made a temporary fix to his 50-60 some year old roof. He put plywood on the roof to cover the holes.

I am really surprised he did not fall through the roof. If the dog can make the hole big enough to crawl through, that wood is not very stable. That is on the side of the house with nary a wall, and I half expected the roof would cave and what is left of the wall would also come crashing down and he would wind up in the tarp he has covering the hole on the side of the house. A big blue tarp is his wall.

Have you ever heard of such a thing as a dog crawling onto a roof through a hole in the roof? Have you ever known a dog to fall off of a roof like that? What a tragic thing.
6 responses

• Philippines
4 Jun 11
Our female lab once fell off our roof but luckily, she didn't suffer damages. She just limped a little and was okay after a couple of minutes. Anyways, your neighbor looks more in danger than the dog. :/

• United States
4 Jun 11
I'm glad your lab is ok! How did she manage to get on the roof? Tell me you do not have a hole in your roof too?



• Philippines
5 Jun 11
Nah, she went through our terrace, she managed to squeeze through the railings. :)

• United States
12 Jun 11
Yikes! Good thing she is ok. Someday soon I will get some pics up of that house next to me. You won't believe someone is living in it.


• United States
5 Jun 11
I Hope the Dog is Okay to and Suffered No Broken Legs. No Internal Injuries Neither. The Owner needs to Fix the Roof for Good not Put a Patch that don't Last. Plus Keep a Better Eye on the Dog. A DOG has Less and different Neck Bones and Leg Bones than Us. So they can Squeeze through Small Openings. They are Curious and Will Go Exploring. Yes I have Heard some Crazy Stories about Dogs and their Adventures. They can get into the Places You would never Think is Possible.

• United States
5 Jun 11
Yes the owner needs to repair,remodel,or demolish a house in that bad condition. That is my considered opinion anyway if anyone really cares.


• United States
12 Jun 11
He has no visible injuries, but as far as internal, who knows. I hope the dog is ok and will have no damage in the future from his fall, but it is almost a 2 story fall he took.

• Philippines
5 Jun 11
poor dog. your neighbor should be careful the dog don't come up the roof again, and he should be careful when fixing the roof. good thing our dogs don't have access to our roof. the only accident one of our dogs was involved in was when he got hit by a car. he cried but got up after a minute or so and was ok. we tried not to have them tail us when we go to the highway. it was really scary/

• United States
5 Jun 11
My main concern would be if dogs can get up on roof could children? A house in that condition is a hazard.

• United States
12 Jun 11
My, that is scary! It sounds like they hit the dog on purpose? Is that what happened? Manly, the guy has full grown children so they would not have any inclination to crawl through a hole. Had he young children living there, the city could have more easily condemned the place and got him out and tear the house down.

• United States
5 Jun 11
Hi. rosegardens. I have never heard of anything like this happening to a dog at all. This is very sad.

I really do hope that your neighbor will fix this hole really good, that is in his roof. I am surprised that he has not tried to get the hole in his roof fixed before. It seems like this hole was an existing hole that he more than likely knew about. He is blessed that his dog did not suffer any internal injuries.


• United States
12 Jun 11
Sometimes injuries from a fall do not show up for months or even years, so the poor dog isn't out of the woods yet. He says the dog is fine, but I wonder. One of the holes has been there for years and gets bigger each year. After this bad winter, it did get much larger. The dog pushed through a portion of the roof that did not have a hole; he was able to make his own hole to crawl through. The wood is pretty rotten. There were 3 layers of shingles on the house, and now I can see the 3rd set pretty clear. What is left of them anyway. Cream, the guy has a blue tarp for a wall. His house is literally falling into my yard, piece by piece, every couple of days. There is some kind of debri, looks like it may be very old, rotted insulation that is on the walk between our houses that spilled out of his house. I can only guess that is what it is, it is brown and kind of fuzzy looking. Looks like it took on the color of the wood from the inside. Slowly the roof on my side (where the dog was able to push through) is falling. Little pieces of wood, sometimes big pieces of wood, find themselves onto the walk, and pieces of shingle are always in my front and back yards. His patch job on the roof will remain for many years, until another accident happens, whichever comes first. He didn't even patch it when the cats were going in and out of his house.

• United States
13 Jun 11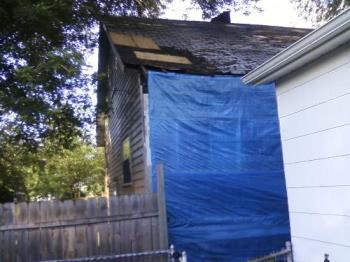 Here is a photo of the house. If you can enlarge the picture you would be able to see the condition of the roof.

• United States
5 Jun 11
I have to answer no to both questions you pose.

I am curious about your neighbor having a house in so bad a condition, is he remodeling or just letting it fall down?


• United States
12 Jun 11
Well, the guy is always too broke to fix it. He does little repairs here and there, but nothing major. Unless you want to call a paint job major......... The house is in foreclosure, and I told him it would probably be a better idea to find a place that doesn't need so much work, because with the repairs it is just not worth keeping the house. He said he set his mind to fixing it, and that is what he is going to do. Mind you, when he moved in to that place 20 years ago, the roof was in bad shape from what the other neighbors tell me. He has a tarp for a wall, and it looks like rotten insulation is falling through the tarp from his floor or wall, onto my sidewalk. Our houses are very close together. Lucky me. I am really hoping he loses the house. Both of us would be better off if he were in a better place. I would love that property for a driveway, since it really does need to be condemned and demolished anyway. I can't imagine what the inside of that place looks like if the outside looks as bad and is in as bad shape. I have been able to see his house through the large hole before he put up the tarp, and the bathroom does not have any plaster, it is just bare wood.

• United States
13 Jun 11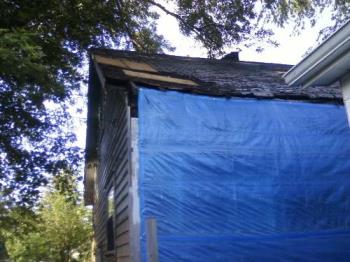 Here's a photo of the worst side of the house from my backyard. You can't imagine the stench.

• United States
4 Jun 11
Never seen it myself before. I thought cat would do that, but I didn't know a dog also capable of crawling up to the roof itself. I don't have dog, and I don't think that it would matter though. Even though my neighbors have dog too, they won't just come close to my house, their owners should forbid them to do so.

• United States
12 Jun 11
The upstairs is on a slant, so the dog was able to scale up to the roof from the floor. I had seen one of them poke their head through the hole, but never expected one to be able to climb through. It seems he created a hole because the larger one that has been there for ages was the only one until the day the dog got out and slid from the roof into my yard.