Progress, but not for very long.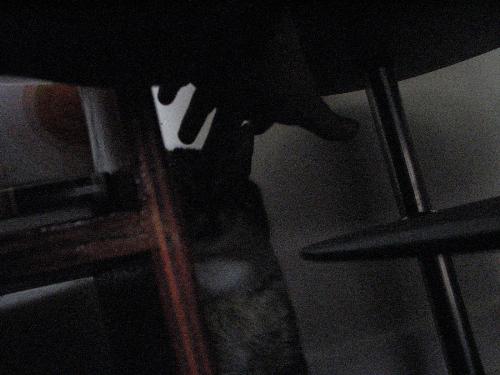 Canada
June 4, 2011 4:49pm CST
Tiger has settled down under the table again after wolfing down some food with antibiotic in it. He likes to hide and I'm not going to try to change him at all. I really think he likes touch, but he let me know loud and clear when he'd had enough by starting to growl and swipe at me. But it's worth it to see him happy.
5 responses


• Canada
5 Jun 11
That's for sure. You just never know. But he'll come around at some point, and I can't wait until he'll climb into my lap for some love.

• United States
5 Jun 11
I've never had a truly feral cat climb in my lap, but I have had some cats who weren't actually feral do so, they had been pets as young cats but become afraid because they were put out when they weren't "cute kittens" any more and became intact toms. Now, Gizmo, who is... well, he was the most feral of a litter of kittens we took in and the only one in the family (including the mother) we didn't place because of it, he'll climb on top of me if I'm laying down, but laps... nope Sparky is the same way, but he's not afraid if he's on my bed and I walk up, only every where else!

• Canada
5 Jun 11
As far as I know, he used to have a home. This is what I'd heard from a neighbor down the street. So he's not feral, just a stray. The kitten will sit in anyone's lap, she's fine with it, and she was born in the wild.


• United States
4 Jun 11
Poor tiger seem hiding is safer as he is still in pain. It appears the antibiotic must be helping as he looks calm and still. I hope he gets better by the day.

• Canada
5 Jun 11
I just started with the antibiotic. I think he's calmer because the morphine hasn't quite worn off yet. I have to give him his second dose of antibiotic before I go to bed. Hoping that tomorrow is better for both of us.

• United States
4 Jun 11
Things change all the time, though. I guess he does not see the vet again until he gets neutered, right? Did he get an antibiotic shot while at the vet as well? I know that I would be awfully cross if I had an infection and a broken bone in my foot or leg. Under the table sounds like a pretty good place for him.

• Canada
5 Jun 11
I don't think he got a shot there. He likes that spot for hiding, it's cool, quiet and away from everyone. But I think he tolerates me more there than in the cage. The carrier bottom is in the cage with a towel in it, so hopefully he'll go sleep there at night. I think he's finally aware that I'm not here to hurt him, and thankfully he's finally learning it.

• Canada
7 Jun 11
It's the nicest feeling in the world to see our pets happy. :) I'm glad he's doing a little better.

• United States
6 Jun 11
All progress is good! As long as you keep him fed and in his antibiotic he will get better. Once he has recovered from all this, I'm sure you will see the desired progress. If not, then you can look into finding a new home for him. But I'm sure the pain and discomfort are the biggest issues right now with him not wanting to be more friendly. Give him time!